There's only one F in Fulham
The Fulham Fanzine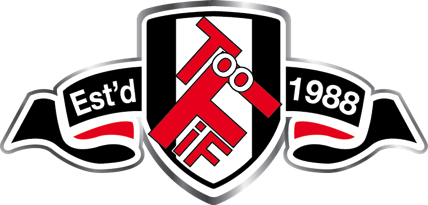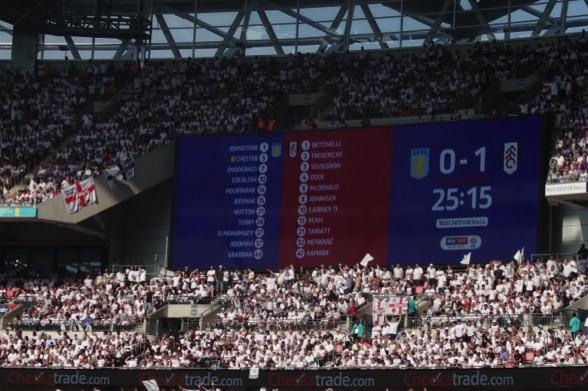 YUP, Fulham FC're Back in the Prem'
Premier League update
billp TOOFIF Site updated Monday, 16 July 2018 21:39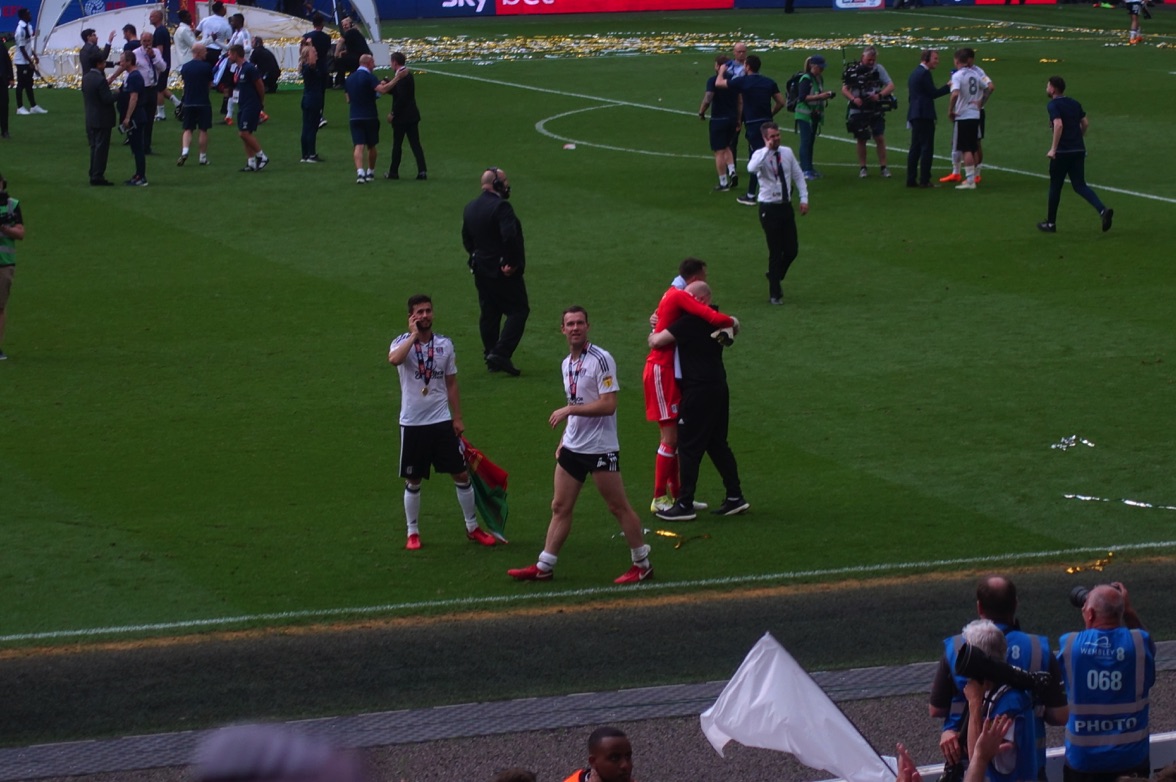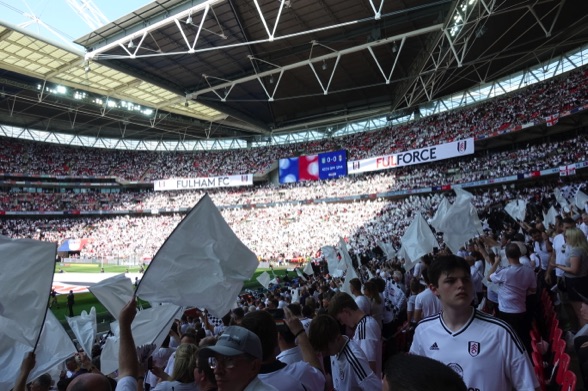 Ah, now there's some news
We're back in the Prem'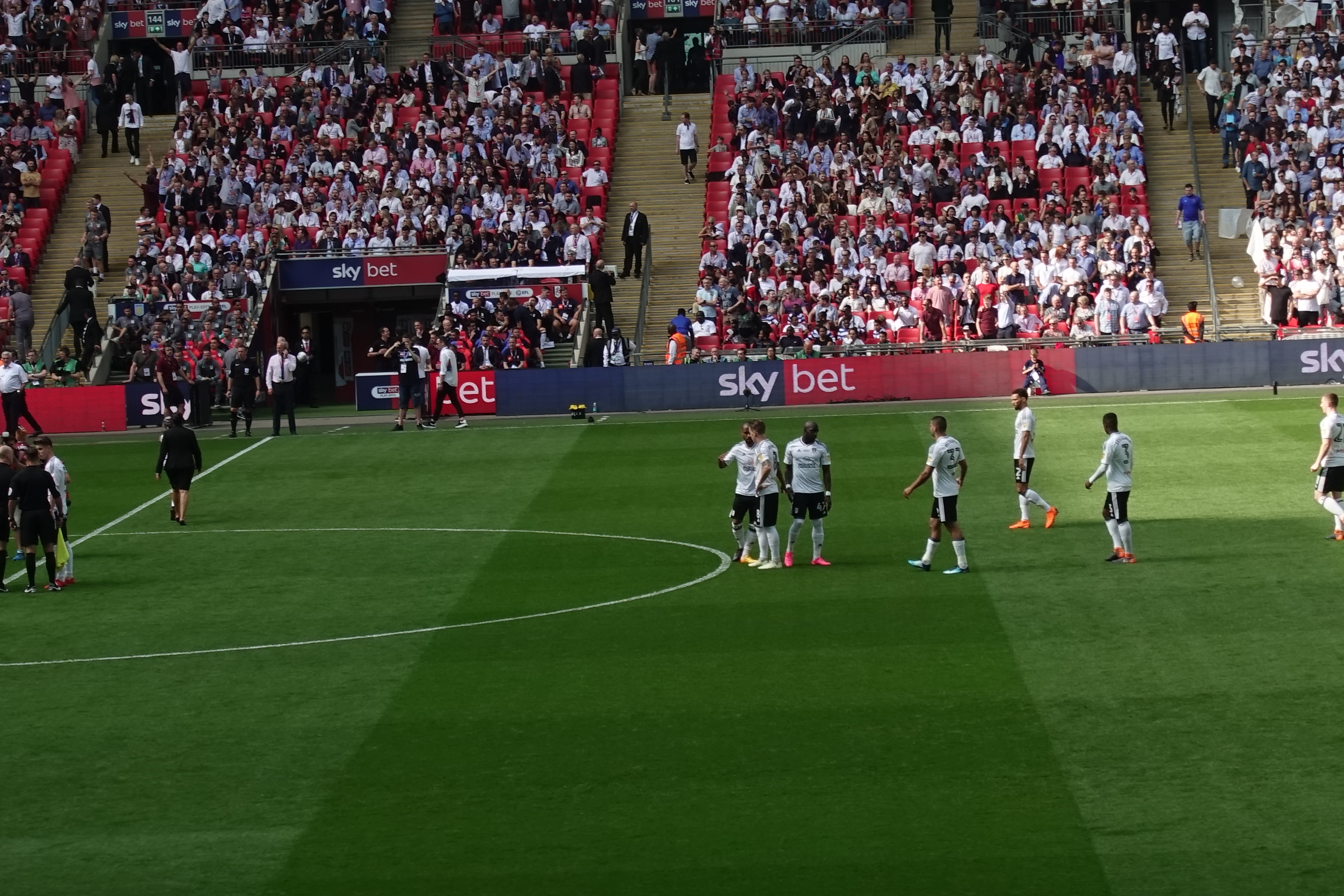 After all the waiting, THAT day was suddenly here, the big test, the crunch game that would mean triumph and glory, a brave new world for Fulham. Or the usual Fulhamish failure at the last hurdle, another year in the Championship, all the team sold on and tour manager crossing over to the Fulham Broadway club.

In other words, the usual pessimism and doubt was beginning to take hold. For every optimist there was a naysayer, personally, as a life-long sufferer, I have always flitted between these two modes on a minute by minute basis, however, despite the obvious misgivings, I was feeling buoyantly optimistic as I made my way to Motspur Park to chill out.

On the bright side, the morning had developed from a damp and overcast bearing to brilliant, burning sunshine in a cloud free sky, oh yes it was hot, very hot!

That turned out to be an inaccurate expectation due to the intense sunshine and that the Earl Beatty was not due to open until midday, I was unaware of the latter detail while I was travelling but on hearing the news, just as I left Motspur Park Station, I thought, "Oh well, now I'll not have to spend two and a quarter hours in the pub, a pity but what can one do?".

As I had the tickets for the Devon contingent with me and as they had complicated plans once they'd arrived at Motspur Parlk, I just had to grin and bear it, it was this which had neccesitated an 11:00 am meet-up

The first spanner in the works came in the form of a 'phone call from one of the three Devonians, they'd just broken down on the slipway between the M£ and M25. My early start was now a completely unecessary enterprise, then we discovered the Beatty's opening time! Cue sitting on a bench getting burned to a cinder, then 45 minutes outside a nearby cafe doing likewise. Not the most auspicious start to the day, could this all point to being a bad omen?

Suffice to say that we all met up, in tandem with other regular match mates with time enough to enjoy a bite and a drink before all setting off on our various journies. This time the time it took to get to Wembley was not quite as long as the trip to the Derby Play-off semi (read further below for that) but was still a bit of a mystery tour through Roehampton, Putney, Hammersmith Broadway, Westway to arrive at the North Circular bvia the Hangar Lane Gyratoty, at least we arrived at the Wembley complex with oodles of time to meet others, wander around and generally soak up this historic day.

Now all we had to do was wait in the customary Fulhamish fashion, hypothesise about the various ways that it would all end in tears, while I was cautiously optimistic, I still harbour that shadow of doubt when the big ones come around, would it be a repeat of 1975?

Well we all know the answer to that now! A biased and very compact match report follows on the Match Review page


Well we all know the answer to that now! A biased and very compact match report follows on the Match Review page
Now all we had to do was wait in the customary Fulhamish fashion, hypothesise about the various ways that it would all end in tears, while I was cautiously optimistic, I still harbour that shadow of doubt when the big ones come around, would it be a repeat of 1975.
Well we all know the answer to that now! A biased and very compact match report follows on the Match Review page.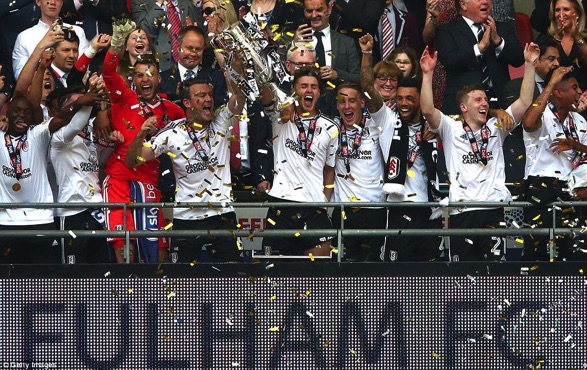 A small comment on the lack of coverage after the Playoff Final
billp TOOFIF Monday, 28 May 2018 12:22
Since the Play Off victory, all the coverage I've found has been about a losing Northern English team in Europe.

I fully get that in respect that Liverpool were in the final of the most important club football competition in the world but that there was hardly a shred about Villa and Fulham was a little surprising.
In a sense, that sums up the media and their disdain for the 'little teams' and let's face it, it has been a feature of our club since Fayed's involvement.

I was not really surprised as all we usually get featured for in the tabloids (including the Tabloid TV) is when there's a negative story or about which of our players are being sold off, the 'Big Club' the manager is off to manage or what fishy business the owner is into, the latter being about the current Wembly sell-off. No doubt when we win games next sweason, it'll be about the bad luck of our opponents etc.

I just wonder whether the printed media and airwaves would have been this empty if Villa had won.
Nothing to report this week, still no proper news
Date: Monday, 16 July 2018 21:04 Written by: billp TOOFIF
WELL, finally, the Fredericks saga is over, he's gone to join the Irons and Davis Moyes at last.

We at TOOFIF wish him all the best at his new club and let's face it he ought to be able toimprove their defence, or will he?

To be honest, Ryan is at his best when going forward and while he's not the worst right back in the world, his temperament has all too often let him down.

The fact that his contract was running down led Slava to bring in Cyrus Chrisie who, in the games that he played, showed that he's a more than accomplished replacement.

So, see ya Fred', and come on Cyrus!
Ta, ta Fredericks
Date: Friday, 22 June 2018 18:53 Written by: billp TOOFIF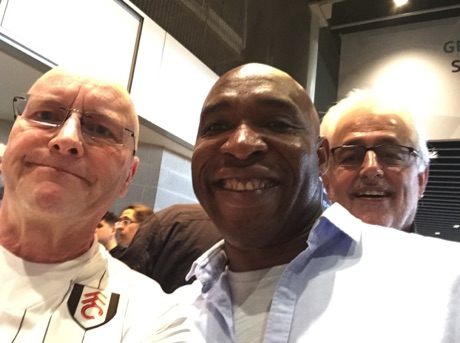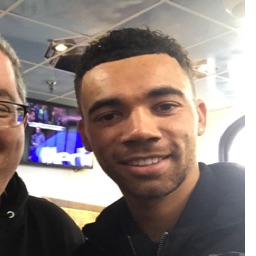 What a lovely surprise, Barry Hayles was at Wembley to cheer on his old club
billp TOOFIF Friday, 22 June 2018 19:09
To see Barry Hales at Wembley meandering around the concourse under Block 122 was a wonderful surprise, there he was soaking up the atmosphere and more than willing to chat to those of us in search of a cooling beer.

You'd never believe that our firm Fulham Favourite is 46 years old as he looked as fit as a butcher's dog, no wonder he still turns out to play, for his current club Windsor, as player/coach. He thought it was hilarious that we used to refer to him as Harry Bayles
Anyway, he told me that it was fantastic to see the team playing these days and that it was a marvellous thing to see them at the National Stadium, one game away from a possible return to the Premiership.

By the glint in his eye, you could see that he wished he could have turned out for the team to play in the Final and you know what, I reckon if he had, he'd have turned JT inside out and nicked a couple of goals! What a lovely bloke!
Harry Bayles with a couple of old blokes underneath the stand at Wembley.The old geezah in the background with a halo is not the son of god, he's just another very naughty boy!
No apologies for keeping the Wembley pieces on the front page
Well, as there is nothing worthy of talking about since our Wembley day out, unless the parting of the ways of Fredericks and the ridiculous attempts by West Ham to poach Tom Cairney count as worthy news items, I reckon we are justified in still enjoying our Play off Final result so the follwing pieces will remain until the Premier League kicks off
No point in re-publishing the nonsense that appears in the media except to confirm that the established backbone of the Slav team have been renewing their contracts and others are following. So much for Fredericks and good luck to jhim, he was a good player for us but his attitude and ability to overdo things is something for the Irons to get used to now.

Sess has re-stated his desire to remain with his club and fight in the top division, Ream and Cairney have commited their futures with the Whites and Kevin McDonald is on the cusp. In addition, we have made major strides by addingSeri and Le Marchand from Nice, that's Nice! iThe club have also made theior intentions very clear as to making Matt Targett a permanent member of the team.

The big question marl is still hanging over Mitrovic, the word always was that the club was very clear that they were determined to make him a fully signed up member of the team when he was audaciously brought in on loan but his performances since joining have obviously altered that perspective and we'll just have to wait that one out.

Button has joined Brighton and it's no secret that we've been actively seeking keepers so that is not much of a surprise.

so no rumours here, no speculation, we'll only give news that you probably already know.
Well, it's the end of the World Cup at last, which, forgive me for spoiling the delusion was as ordinary a display of football as I've ever witnessed despite the hystrical prattling of the obviously biased and self aggrandishing media.
Talk about Coals to Newcastle. That's probably what Shearer's job ought to be, as he was as guilty as the other deluded panelists on the OTT British TV coverage, all were constantly polishing turds. They were all about as accurate as the much vaunted VAR system!
Honestly, I was as proud as any that our lot went as far as they did but why can't everybody be honest and actually admit that they outperformed their true potential, get over it, they ended up 4th best in the world, blimey I'll settle for that!