There's only one F in Fulham
The Fulham Fanzine 2019-20 Championship Season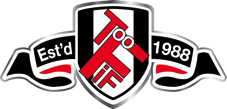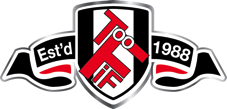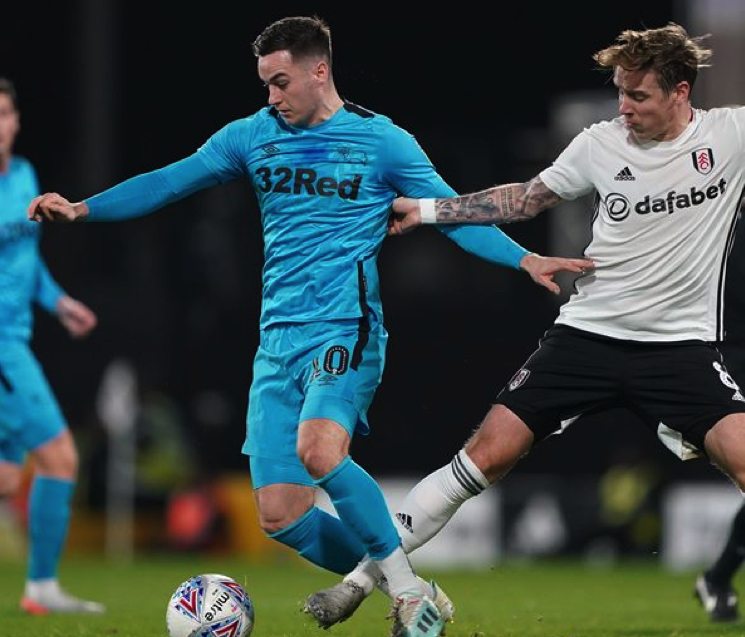 May 2018 was our last previous meeting
In the previous last eight games We'd lost three, drawn three and won two
billp TOOFIF Updated Wednesday, 27 November 2019
FFC 3 v Derby County 0 NOV 26 2019
It was hardly a derby of a game
But we won and progress a little farther
billp TOOFIF Wednesday, 27 November 2019
Images Fulham FC Online | Shutterstock
It was just over one hundred and twelve years ago that Fulham and Derby first played in a competitive football league game in the old League Division 2. That was on September 7th 1907, away at the Baseball Ground, we won one nil.

Fulham and Derby have meet 63 times in their histories, we've lost 23, won 20 and drawn 20. Let's hope we can make that 22 won this season however that is easier said than done so this dominant (62.4% possession and 17 shots at goal compared to derby's 8)) result is a big step in the right direction.
Match Information
from FFC online
Competition: Sky Bet Championship
Date: Tuesday 26 November 2019
Kick-off: 7:45pm
Venue: Craven Cottage, London
Attendance: 16,856
Referee: Andy Woolmer
Fulham
Line-up: Rodák; Odoi, Mawson, Ream, Bryan; Johansen, Cairney; Kamara (Knockaert 54'), De Cordova-Reid (Onomah 60'), Cavaleiro (Christie 80'); Mitrovic
Unused substitutes: Bettinelli, McDonald, Kebano, O'Riley
Manager: Scott Parker
Derby County
Line-up: Roos; Bogle, Davies, Forsyth, Lowe; Evans (Dowell 62'), Bielik; Waghorn, Holmes (Marriott 77'), Lawrence; Martin (Whittaker 59')
Unused substitutes: Hamer, Malone, Bird, Paterson
Manager: Phillip Cocu
Preview from the pre-match Home Page


My original corny headline for the preview of this match read "Here's hoping this'll not be a Ram Raid, or that we get too sheepish about this one"

As it turned out and on the evidence of the first half it was less a case of the Rams coming to the Cottage to butt heads with the Whites but more a case of sheep being led to slaughter.

I know that sounds cruel but Derby were quite the tamest collection of professional footballers I have ever witnessed in the first 45 minutes in a competitive game. That included all of the most wretched Fulham performances home and away in the last 30 years or more (the game in which 10 goals conceded against Liverpool are not included in these dire performances).

This first half was so one sided that Fulham completely dominated every part of the pitch and the surprising aspects to our tactics was that we didn't do more direct attacking and retained our irritating and risky tippy-tappy possession football in our area so often. Fortunately, Derby had done no research and were blatantly unaware of our defensive frailties and didn't press us in our half as the football conventions would dictate.

The reality was that Derby's players didn't get closer to any Fulham player than two metres when we had the ball in our half, this was a direct contrast to the QPR tactics which had concluded with Rangers dominating us in our own back yard for most of last Friday's evening meeting. They must have been told that been an outbreak of something contagious at the Cottage.

They weren't wrong, our players had been stricken with an inability to ruthlessly exploit this golden opportunity and with Tom Cairney keeping our tempo turned down to a sleepwalk we only managed to pilfer two measly goals in the first 45 minutes. For vast swathes of the first half Cairney and Johansen were virtul members of our back line.

This modus operandi is obviously ordained by the coaching staff and it's fair to say that with a 100% record over three games, it indicates that the system works but my, oh, my, it's boring to watch and is so risky. Barcelona, Bayern, Man City and teams at their level can do this type of stuff in their sleep and make it an effective part of an overall attacking game. Our lot just sleep walk it.

The first goal, after a mere seven minutes, was a well-deserved conversion from Bobby Decordova Reid who enjoyed another encouraging outing, another assist from the rejuvenated prodigal son AK who likewise gave a flat-out, committed and attacking showing.

Despite my dislike of our sometime lethargic build up play, Fulham managed to make something like eight strikes at goal and totally dominate proceedings in the first period, Derby had a couple of chances, mostly caused by the usual dozy Fulham defence. We'd started the half giving away free kicks but Derby soon levelled that statistic and Ivan Cavaleiro was booked for simulation in the Derby area, that was harsh but indicative of the current refereeing trend. The whistle came after 47 minutes, an encouraging score line but not quite the breath-taking performance we'd have liked to go with those two goals

This ought to have developed into a rampage but it was another 33 or so minutes before Mitro gave us his pre-requisite goal. This one glanced of the top of his bonce as he rose above a melee of players converting a Cavaleiro cross after a corner.

The first half terminated with our boys in complete control but during the interval it was a confused Cottage Crowd that awaited the re-start, Derby could not possibly be that timid in the second half. "We must get the ball moving more quickly and penetrate their midfield and defence more aggressively, it's obvious isn't it?" formed the conversations around where I sit.

The second half resumed in much the same fashion as the first, Derby players were now committing fouls more frequently and were beginning to gain the upper hand in the their free-kicks against column. Unfortunately, in the 54th minute, Kamara was subbed after taking a knock which put an end to another excellent and eager performance being replaced by Anthony Knockaert. Bobby Decordova-Reid also suffered an injury and made way for Josh Onomah a mere six minutes after Aboudar's withdrawal.

As the clock ticked on, Fulham had attempt after attempt at goal and mercifully, Knockaert had been let off his leash to carry on where Aboubakar Kamara left off and did what we'd been begging for by heading pell-mell towards the Derby goal, all this did not enable us to add to our two goal lead however and Derby now started to have more possession and encroach on our own area.

It seemed ridiculous that we hadn't scored more goals in this one, Knockaert alone, could have grabbed a hatful then 0n 70 minutes Derby really ought to have scored, Waghorn being put through by the Derby sub Morgan Whittaker with the Fulham defence nowhere, his pitiful attempt culminated ina scuffed attempt which only bothered the worms, this somewhat summed up Derby's evening.

With 10 minutes remaining, Cyrus Christie took the place of Ivan Cavaleiro who had to be helped off injured, he'd had a mixed outing, at times incisive while still not being entirely convincing, though he'd be on my team sheet.

The ensuing half wobbled it's way towards the 90th minute with Fulham sitting atop their comfortable two goal cushion but with our every side and back pass keeping us firmly entrenched in our own half, it seemed that we'd settled for that result and that we encouraged the opposition to take heart from our fake Barcelona defensive act to their advantage.

Then Derby's keeper made a right old hash of a clearance, bashing his attempted hoof against one of his defenders allowing a grateful Mitro who calmly controlled the ball and feed it through to a lurking Cairney, luckily his left boot was available so he duly volleyed the sheep's bladder into the onion net and that dear readers, was that, three goals and 3 points seemingly assured, in the 80th minute.

When five minutes appeared on the fourth official's board, the apprehension was almost audible, after all, we have been vulnerable late in games when the opposition mount all-out attacks and kicks us in the complacency zone, thankfully, not this time.

This was a perplexingly mixed showing by Fulham, an easy win while not playing anywhere near our best, I'll gleefully take that but can't help feeling that against better opposition we'd have not been so happy.
Derby County F.C. was formed in 1884 as an offshoot of Derbyshire County Cricket Club in an attempt to give players and supporters a winter interest as well as secure the cricket club extra revenue. The original intention was to name the club "Derbyshire County F.C." to highlight the link, though the Derbyshire FA, formed in 1883, objected on the grounds it was too long and therefore would not have been understood by the fans who may mistake it for a Derbyshire FA team.
Playing their home matches at the cricket club's Racecourse Ground, 1884–85 saw the club undertake an extensive programme of friendly matches, the first of which was a 6–0 defeat to Great Lever on 13 September 1884. The club's first competitive match came in the 1885 FA Cup, where they lost 7–0 at home to Walsall Town.
Arguably the most important match in the club's history came in the following season's FA Cup, when a 2–0 victory over Aston Villa, already an emerging force in English football, helped establish Derby County on the English football map, helping the club to attract better opposition for friendlies and, in 1888, an invitation into the inaugural Football League. The opening day of the first ever league season was 8 September 1888, when Derby came from 3–0 down away to Bolton Wanderers to win 6–3, though the club ultimately finished 10th out of 12 teams.
In 1891, they absorbed another Derby club, Derby Midland, which had been a member of the Midland League, leaving them as Derby's sole professional football club. Steve Bloomer, generally considered to be Derby County's best-ever player, joined the club in 1892. In 1895, the club moved to a new stadium, the Baseball Ground (so called because it was previously used for baseball), which became their home for the next 102 years. It was then that the club adopted their now traditional home colours of black and white.
Although Derby were inconsistent in the league, they finished as runners-up to Aston Villa in 1896, as well as achieved a number of third-place finishes. They were a strong force in the FA Cup, appearing in three finals in six years around the turn of the 20th century, though lost all three, in 1898 (3–1 to Nottingham Forest),1899 (4–1 to Sheffield United)[5] and 1903 (6–0 to Bury).
–––––––––––––––––––––––––––––––––––––––
Derby County Football Club (/ˈdɑːrbi/) is a professional association football club based in Derby, Derbyshire, England. The club competes in the EFL Championship, the second tier of English football, and has played its home matches at Pride Park Stadium since 1997.
Notable for being one of the 12 founder members of the Football League in 1888, Derby County is one of only 10 clubs to have competed in every season of the English football league system and, in 2009, was ranked 137th in the top 200 European football teams of the 20th century by the International Federation of Football History & Statistics.
The club was founded in 1884 by William Morley, as an offshoot of Derbyshire County Cricket Club; it has spent all but four seasons in the top two divisions of English football. Its competitive peak came in the 1970s when it twice won the First Division and competed in major European competitions on four separate occasions, reaching the European Cup semi-finals as well as winning several minor trophies. Additionally, the club was a strong force in the interwar years, winning the 1945–46 FA Cup.
The club's home colours have been black and white since the 1890s. The team gets its nickname, The Rams, to show tribute to its links with the First Regiment of Derby Militia, which took a ram as its mascot. Additionally adopting the song "The Derby Ram" as its regimental song.
(extracted from Wikepedia's website)



We look forward to meeting Derby County once again at the Cottage on Tuesday evening and seeing how tight the Championship is after 18 games, the fact that they are five points and seven places below us in the league means little.

As we have seen to our cost, every team in the Championship is capable of beating their rivals and often do so our lot had better heed the lesson learned against Hull and from some of our other patchy recent performances.

The thing to aim for is naturally a win and three points, that would do nicely thank you very much and would put us on 32 points which after 19 games would be more than a welcome early Christmas present.

Mitro will be available for selection but after AK's heroics on Friday night, who'd bet against Mitro starting the game with Aboubakar also in the line-up.