Taking the Pitch gameshow and TOOFIF
Way, way back in 1998, David, knowing that I usually had a camera loaded up and ready to go, asked if I fancied popping down to a television studio in Wandsworth town centre to take some shots at a new game show that was being filmed for London Weekend Television (LWT).

I made sure the flashgun had four brand new Duracells and took a few spare rolls of fast Ektacherome for the SLR (no DSLRs then but I did have a very early and low resolution SONY DSC-F1 digital camera, just 1 Megapixel and only RAM on the chip, no extra memory.)
The premise of the show as based around football, called Taking The Pitch and hosted by Bob Mills, there would be two teams, each represented by 'celebs' , supporting a particular nation or club side, there would be an ex-pro from that team in each team.

The contestants answered questions about the team/national side that they were associated with. The culmaination was a penalty shoot out against a celebrity keeper, this particular episode had Peter Shilton for one game and the then current English women's team keeper for the other. >br>
That evening, there were two games, England v Scotland and Fulham versus (I forget who). Rodney Marsh was there as he was going to represent England, George Cohen, David Hamilton and David Lloyd (our very own TOOFIF Editor, not that other one) were Fulham's players.

There were various people there including Joe Guest, n extremely attractive young lady who apparently was well known in 'Adult Magazine nd Film circles), a striking tall blond Norwegian model (Eva Bjertnes or Anne-Marie Foss) who, by all acoounts, did a weather programme on LiveTV, a new cable channel., reading it in a bikini.

LiveTv was obviously a highbrow television venture, created by The Mirror Group, Janet Street Porter was involved and this channel featured gems such as: Tiffany's Big City Tips, in which model Tiffany Banister gave the financial news while stripping to her underwear, Painted Ladies, which involved topless girls "painting" on large sheets of paper with various body parts[7] and the News Bunny, a person in a rabbit suit who stood behind a newsreader making gestures and expressions for each item.

Considered cheap and always accused [by whom?] of poor taste, the channel never captured more than 1% of the British television audience under MGN, and at its worst was losing around £7 million a year.

It was often described[by whom?] as "tabloid television", in part due to its control by MGN and because MacKenzie had been editor of The Sun.

Alos on Taking the Pitch that night were Dean Gaffney who played Robbie in Eastenders, Fish of the band Marillion and Steve Collins who was a world champion boxer at the time, the latter two were in the Scotland team.

Not much toadd except that when the time came for me to photograph the various celebs, the new Duracell batteries were dead a sa dodo and Rodney Marsh was very grumpy. I did get one or two shots with the little digital but the best thing about the night apart from chatting to George and Diddy et al was seeing David L posing for a shot with Jo Guest and the Scandanavian lady trying not to squrim while Jo Guest was tweaking his privates!

Steve Collins took me aside in the Green Room to make me promise not to publish the shots and him with said Weather Girl, 'nuff said!
TOOFIF vs the FFC proggy team at the Cottage, L – R: Ben McCarthy, DL, Phil Mison and Will Brooks.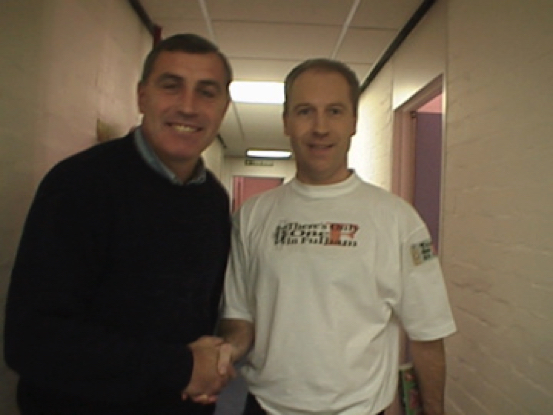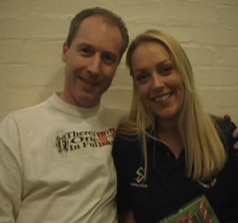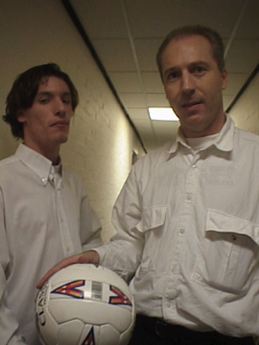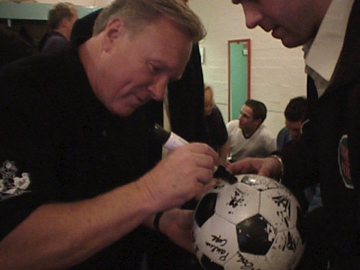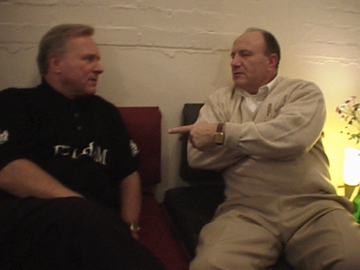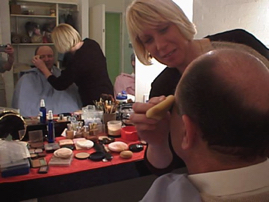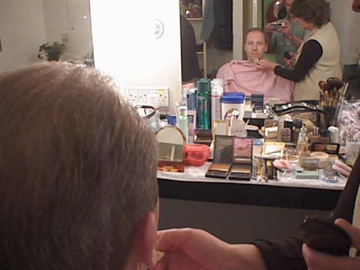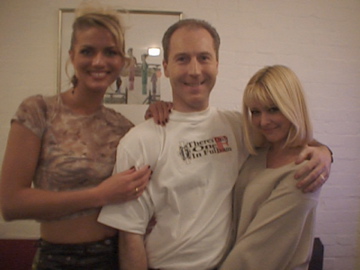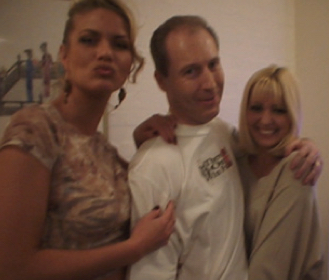 Taking the Pitch photos
Clockwise from top left:
1). The Editor with Shilts, backstage at the filming of 'Taking the Pitch'. Never heard of that? Neither had we until that night, it subsequently aired on ITV2.
2). David and Norwegian Weather Girl and Jo Guest
3). And again, luckily I didn't take the ultra wide angle lens!
4). Diddy signs.
5). George Cohen and David Hamilton enjoy a chat in the Green Room.
6). George gets a bit of grease paint.
7). The Editor with Dean Gaffney, a realy decent bloke.
8). David chooses his favorite eyeliner.
9). Note how Soccer AM's Helen Chamberlain gets a more affectionate approach!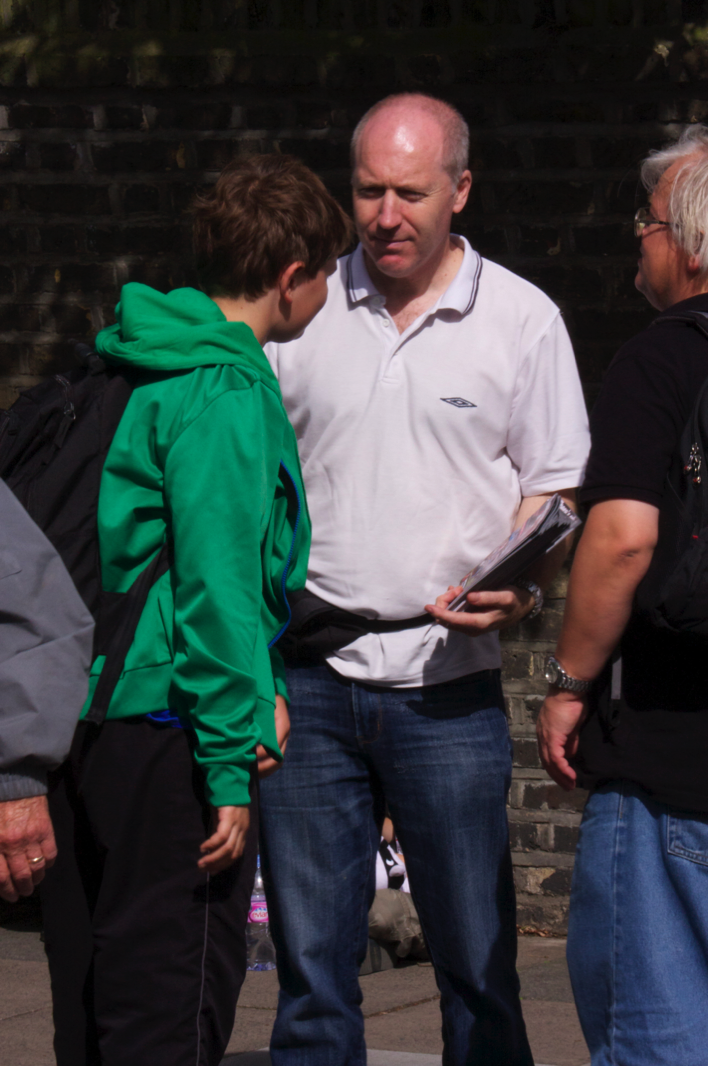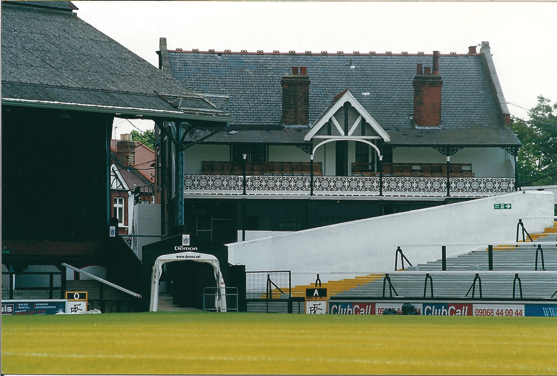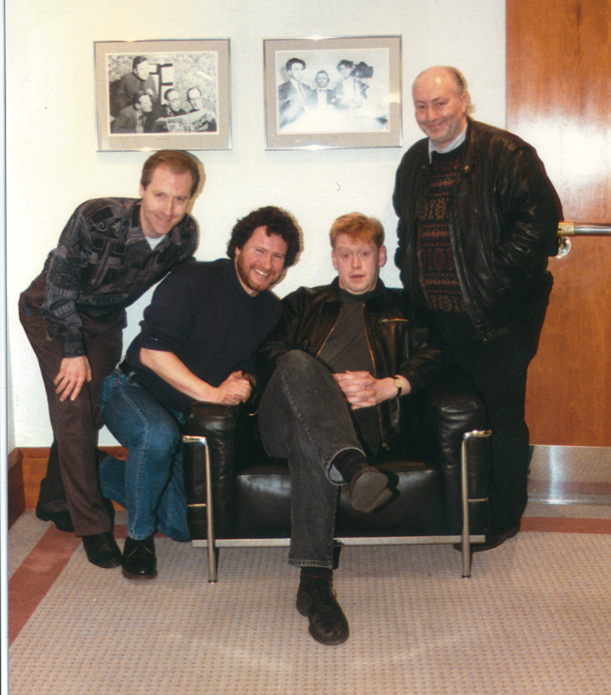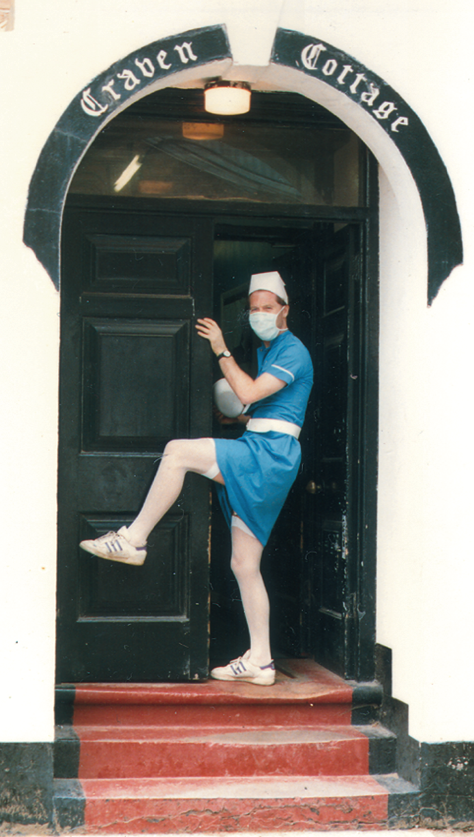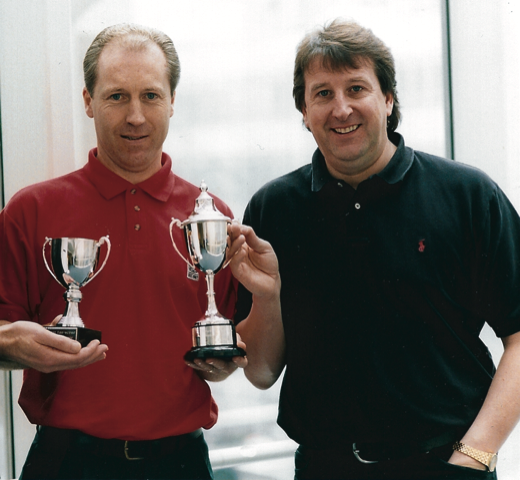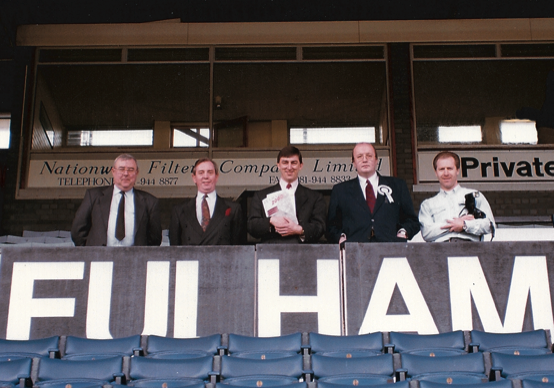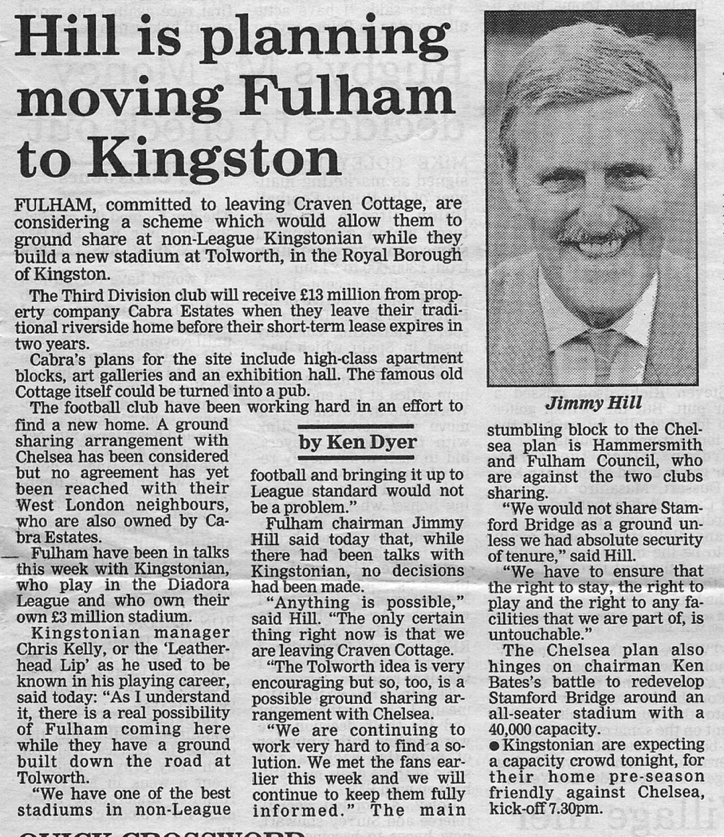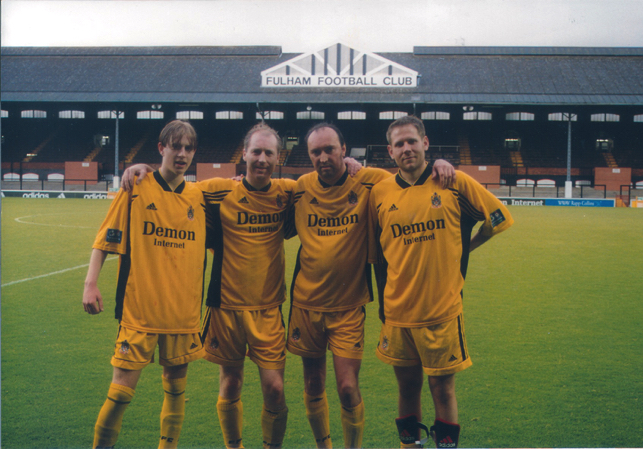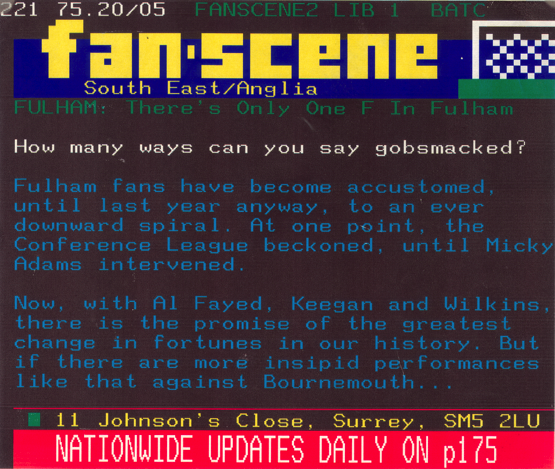 Click this link to hear the tune that provided the music to
There's Only One F In Fulham back in the day:

Ooh-er Matron. Best not to ask! (Raising money, along with other Fulham Supporters' Club stalwarts, for a defribrillator for Charing Cross Hospital).
DL training with the first team (prior to knobbling Clive Walker with a Peter Storey-like challenge, causing our star flanker to almost miss the following League game!).
The Ed receives another award for the TOOFIF fanzine, this time it's from Teletext (presented by Richard Littlejohn, Oh well, win some…!).
Fanzine of the Year in '92 – praise indeed from the mighty 'Thunderer'.
TOOFIF columns have appeared regularly in the local press – the example above is from the Fulham Chronicle back in May 1996. The David Lloyd article below is from the Gazette, October 1995.
Co-founders DL (left) and DP (third left) are joined by TOOFIF stalwart John Walters (right) for a BBC quiz show chaired by Rory McGrath.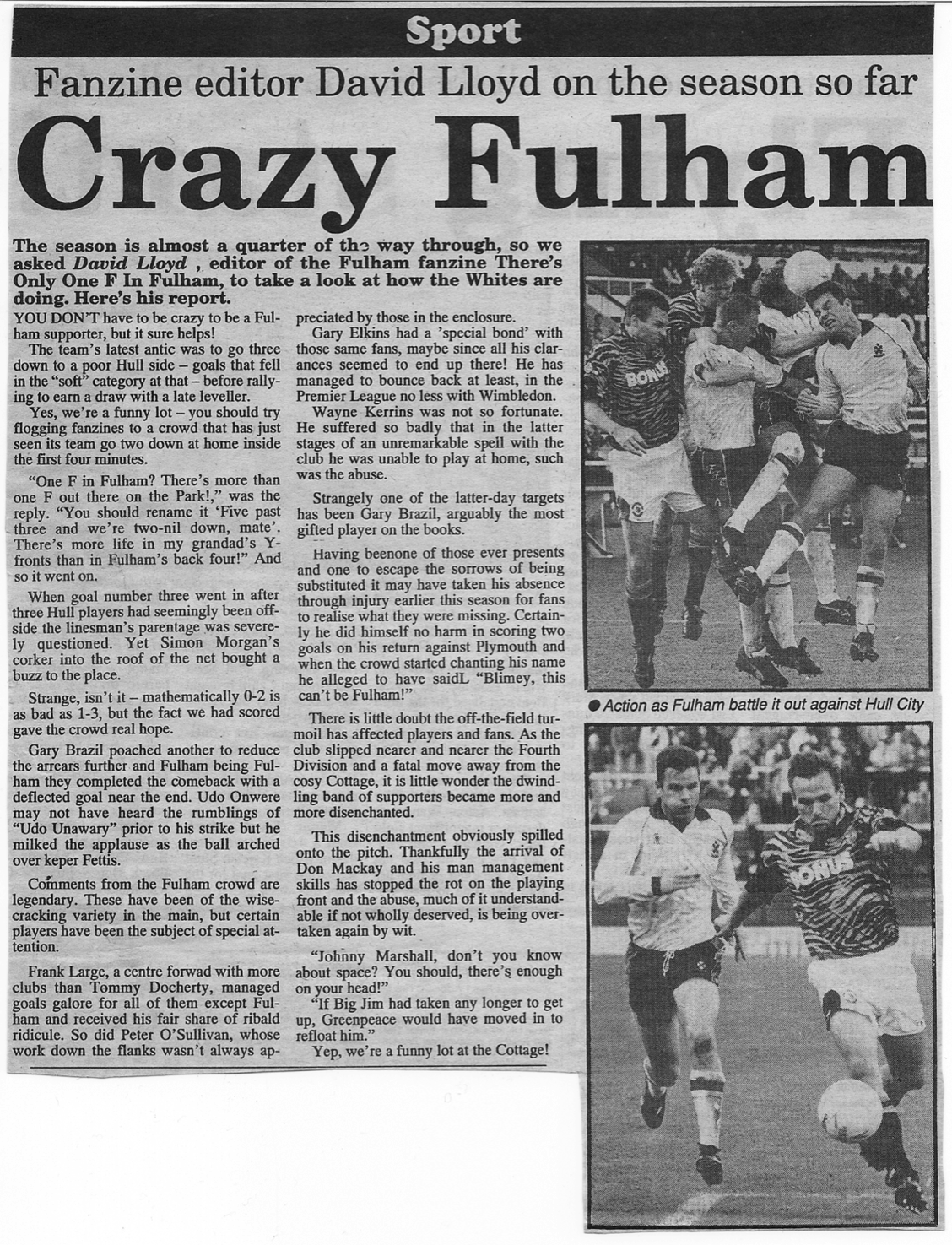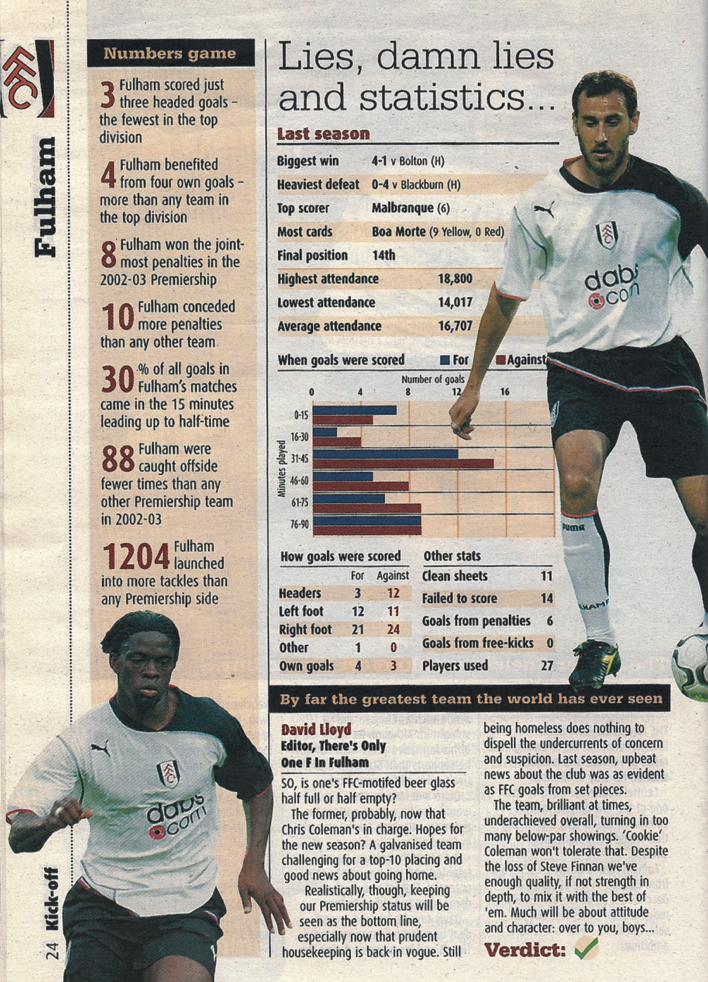 On the telly in the days of hair. And with a still vibrant Supporters Club.
View of the Cottage, worth fighting for. Aah, standing in the Putney End!
TOOFIF on the telly way before this 'ere new-fangled inter-web nonsense!
DL is pictured (far right) with the Fulham 2000 hierarchy (from left), Geoff Faulkner, Alan WIlliams, Richard Jones and Melvin Tenner. No prizes for those who have spotted that the only one present who hadn't read, 'How to Dress for Business Success' is our Editor!
More from the local press – tThe David Lloyd article below is from the Gazette, October 1995.
An Evening Standard article from August 1991.
This piece appeared in the Evening Standard in August prior to the 2003-4 season.
The Editor enjoying the start of yet another season.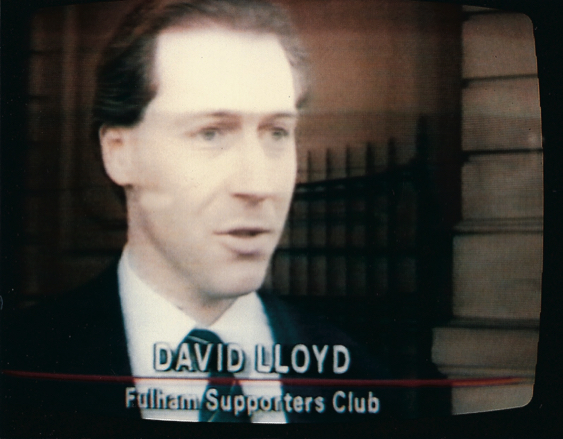 Anyway, rant over, my love for Fulham is undiminished, I might hate what I watch rather a lot and being an old fogey now I suppose that comes with the territory, but Craven Cottage has such a strong hold over me that whatever else I'm still here.vSo here is a sort of a relaunch of the TOOFIF site, this time in readiness for the return to the top flight.
When David and I first chatted about a web representation for TOOFIF to supplement the Mag', I must confess that I was unsure as to how we could really develop it. For starters,
the TOOFIF publication is 100% a labour of love and literally, blood, sweat and tears for Mr Lloyd and with the time, commitment and his own financial input, there was no way we could reproduce each printed magazine in facsimile on the internet.
We hadn't intended to give match reports or host a message board. That stuff is more than adequately catered for elsewhere, though I did eventually post weekly biased TOOFIF match reports and published those from contributors but this became unbelievably time consuming, another reason I halted work on the site.
Therefore, from now on there will probably be some of those but not a concise report of every game. We'll just give a brief TOOFIF slant to all things FFC with a highlight on the Cottage which is a burning issue to all of us obviously at the moment.
That's it really, I'll update this page regularly and maybe re-instate some of the pages that we had before, like the Fans' pics and images supplied from contributors regularly, it's over to you lot to send stuff in so let me and David know what you want.
Email: dml@toofif.co.uk billp@toofif.co.uk
Anyway, for now the pages relating to the Cottage are here, pertinent with what is going on at the moment! Just click the links in the heading bar, there is also a page of miscellaneous nonsense, not a lot yet but it will build as we progress with the site, click the TOOFIF Miscellany link to navigate there.
Note that this was written in June 2018 just after we won the Wembley Play-Off Final.
Ok, yes it's another relaunch, sort of. This time a very modest attempt though. There'll be some up regular small updates on as daily a basis as is possible stolen from the broader news avenues but tinged with a relevant TOOFIF comment here and there.
Odd really, I've been there through thick and thin as a lover of FFC, ok, mostly thin since the year dot but the last few seasons have really tested my whole Fulham Supporting life That said, the second half of last season was a wonderful revelation,
The first months of this season were definitely not confidence inspiring, inconsistent and sometimes disjointed, all the old evils were in plain view but to say that a revelation came about at the end of last year seems even more unbelievable than the previous season's revival.
For the season to transform, once the restrictions of a non-football phoney's influence on transfers was finally resolved, was very revealing. It seemed that a veil had been lifted and a new swagger was brought to the surface. Tim Ream became a major part of the defence, the new blood brought in over the January window slotted in brilliantly.
Best of all, the nature of our play almost instantly did the impossible, it was pretty, intelligent, skillful and effective and away fixtures were no longer dreaded, a draw seemed a loss, the last time we experienced these sort of feelings seemed stone age history.
Losing has never put me off, that's a given or I would probably have given up even before I was old enough to know better. No, first I grew to resent the Premier-led mentality of the way football is served up in the SKY-Years, then the fact that some of those serving the clubs and being paid ridiculous amounts of money to put on the shirt didn't alway display the sort of commitment that others showed.
That the armchair fan in some far-flung continent is more valuable now to the Money Men running English football, than even a moderately interested follower actually attending in person at an English stadium. And how about those sufferers who've actually been going to games for years, home, away or both, spending goodness how much and putting up with various degrees of hardship to follow their team are sadly now vitually irrelevant to those running the game, that sticks in my craw somewhat.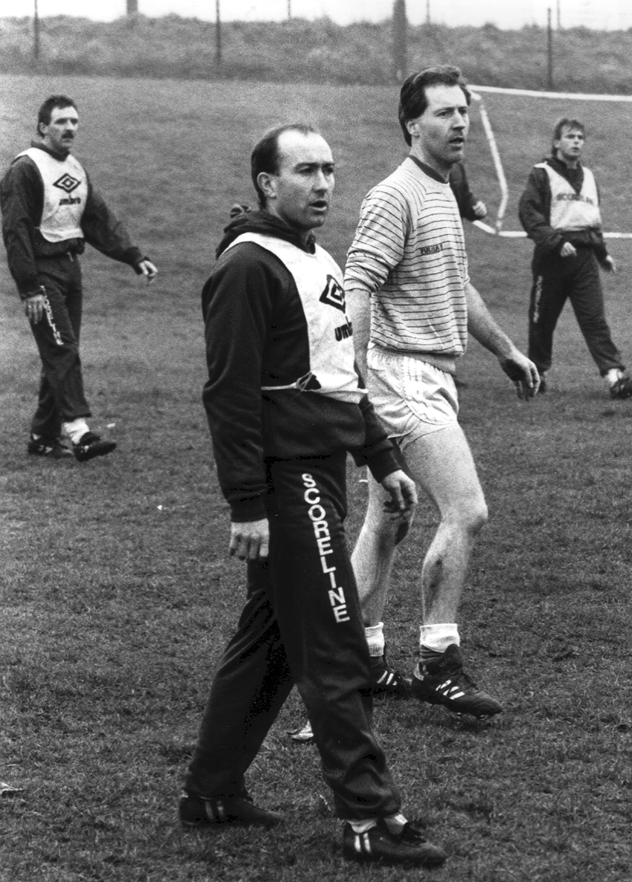 WHAT'S THIS Site Update stuff ALL ABOUT?
billp TOOFIF Friday, 1 June 2018
TOOFIF is a football fanzine, produced specifically, but not exclusively, for the ardent followers of Fulham Football Club.
It is published in the form of a printed magazine which appears at best every 4 weeks during the football season.
The full title is 'There's only one F in Fulham'* but that's a bit of a mouthful, hence the use of the acronym TOOFIF.
This page explains the a little of the philosophy behind the mag. It also gives a potted history of what led to TOOFIF's change of emphasis as the storm clouds erupted around Craven Cottage during the late 1980s and early '90s.
For a fuller version of events see the 'Craven Cottage' chapter.
From modest beginnings in black and white (only right for a Fulham supporters' publication).
TOOFIF has evolved over the years, graduating to two colours and is now printed in full colour. A smattering of the various cover designs that have appeared since the birth of TOOFIF in 1988 may be seen on the 'Subscriptions' page.
First issue
Number one, funny enough!
Founders
David Preston and David Lloyd, in November 1987; Issue One eventually appeared at Aldershot in February 1988 (David Preston went his own way in 1989 because of ever-increasing commitments – things like work, wine and women, but not necessarily in that order).
Why?
To have some fun. Initially to be a sort of footballing "Private Eye" with the emphasis on stupid haircuts, ugly players, best/worst teams, dreams, nostalgia and some serious bits. The usual stuff!
TOOFIF became more hard-hitting as problems with Craven Cottage came to a head.
When, as part of a deal, the Club agreed to be gagged by property developers eager to build on the site, the fanzine became the main channel of information. In the ensuing years, prime reasons have been to support the Fulham 2000 campaign to regain the Cottage freehold and reinforce the Back to the Cottage message while we were at Loftus Road. In short, when the need has arisen, TOOFIF has aimed to keep supporters informed and thereby able to debate the issues of the day.
Why the title?
Dead of night inspiration. A hark back to the raucous chant by Fulham fans at Anfield when 10-0 down to Liverpool in a League Cup tie. (Prize for cheek goes to the Fulham programme editor who, for the second leg, gave details of extra time "should the contest be level after 90 minutes"!)
(The song actually pre-dates that unhappy occaision, it was my favourite ditty back in the 70s billp TOOFIF Online).
Awards
• Named "Fanzine-of-the-year" by the Sunday Times in 1992
• Awarded 3 out of 10 by The Sun in 1994 (!)
• Named "Fanzine-of-the-Year" by Total Football in 1996 & 1998
• Teletext "Fans-Scene" writer of the year 1998
• EMAP fanzine-of-the-year finalist 2005 Named "Best Premier league
• Print Fanzine" by the New Football Pools in 2009
Frequency
At best four weekly, but usually every 5-6 weeks (reliant on home fixture list).
Cover Price
£3.00
Subscription details:
£20.00 for five issues
(To Europe £30.00, further afield £36.00).
See Subscriptions page on this site for more information.
Advertising/Sponsorship
Welcomed! Rates available upon request.