There's only one F in Fulham
The Fulham Fanzine 2019-20 Championship Season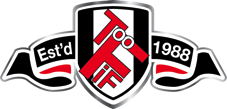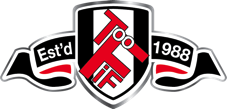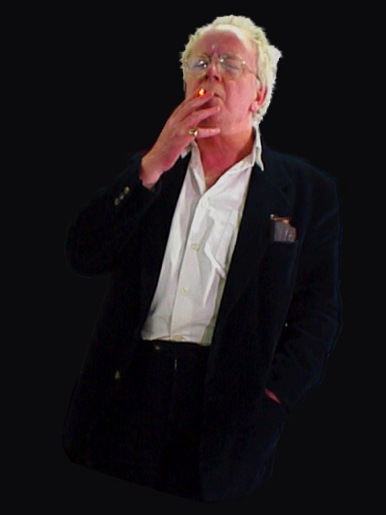 'CELEBS' WHO MAY or may not be fans
Oi, it's them Off the silver screen!
billp TOOFIF Updated Tuesday, 27 August 2019
I've revived this page from the 2013 site and will strive to add to it and include more featured fans but for now just wallow in the afterglow of the following line up.
Just for a little light amusement, this will be a page where we can include real people, fictional characters and so on who are current, past or purported to support Fulham, I'll eventually add the more obvious ones over the next couple of weeks and maybe in the close season have a proper old dig round and add more.
Terry McCann Fulham Fan
Dennis Waterman though…
To see an extract which features an FFC rosette, scarf and pennant in Terry's pad, play the file lower down or follow this link:
http://sharetv.org/shows/minder_ukbiography:
Waterman was born in Clapham, London, and his career began in childhood. In 1961, at the age of 13, he played the part of Winthrop Paroo in the Adelphi Theatre production of The Music Man. A year later, he starred as William Brown in the BBC TV series William based on the Just William books of Richmal Crompton. He trained at the Corona Theatre School in Kew. West London and training productions included playing Sandy in Noel Coward's Hay Fever.
He became well known and something of a pin-up as DS George Carter in The Sweeney, during the 1970s.
Waterman starred in Minder, a long running comedy drama on which he sang the theme song, "I Could Be So Good For You", which was a top three UK hit in 1980 and a top 10 hit in Australia. Waterman also recorded a song with George Cole "What Are We Gonna Get For 'Er Indoors".
The premise for Minder we that Arthur Daley (George Cole), a small-time conman, hires Terry (Dennis Waterman) to be his 'minder' to protect him from other crooks. While Terry is trying his hardest to satisfy his employer's demands, and risking his life, Arthur is busy exploiting Terry for all he is worth, usually by keeping most of Terry's share of the money for himself. Later nephew Ray becomes the Minder.
An avid fan of Chelsea Football Club, London. Ironically, as Terry McCann, his character in Minder, he had to play a fan of Fulham football Club a point enjoyed very much by the Only Team in Fulham.
Content from these sources:
I caught the back end of an episode of Minder a couple of weeks ago and laughed like a drain, normally, I would avoid most old stuff of that ilk like the plague, however I had completely forgotten that it was fairly sharply written and that George Cole carried off the role of Arthur Daley so brilliantly. I didn't channel hop next time I came across another episode re-run, instead I stayed with it, marveling at the outside broadcast shots of bits of London, and cringing at rather a lot of what I was seeing. Remembering that the Terry McCann character was a Fulham Fan, I was amused to catch a scene showing evidence in the form of a scarf, pennant and a rosette.

I recall that McCann actor Dennis Waterman is in fact a follower of the late-comers to SW6 which naturally made me chuckle even louder.

In honour of this Fulham/Minder association, there is a small piece dedicated to this fact to the right, who knows, this could lead to a few features on other notable Whites fans, fictional and actual. Budgie (Adam Faith), Citizen Smith (Robert Lindsay) being two other fondly remembered TV character examples from the last century, Liz Hurley's ex, with Keith and Lilly Allen and the tall chap from Pointless, being a few well-known more current celebrities with black and white blood.

If there are any of you out there that can remember a few others, (Ray Brooks, Sharon Deuce, OXO Dad and other obvious candidates excepted) please send in your suggestions by email to TOOFIF please.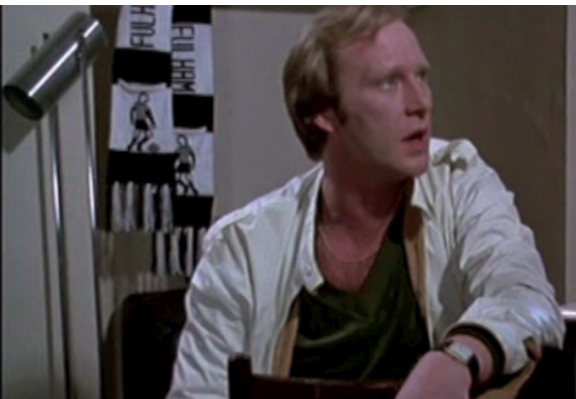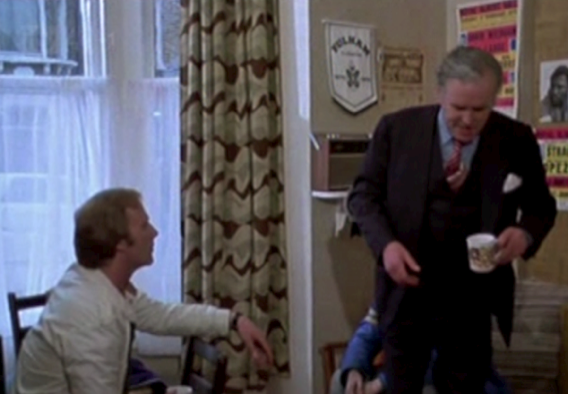 'Terry' and some of his Fulham paraphenalia
In the same vein, there were other TV series that featured characters supporting the Super Whites, two of them most notably being Citizen Smith and the other Budgie

Robert Lindsay played the namessake in the former, a lefty hypocritical, revolutionary type who wsas anyhing but peoples' champion.

Budgie featured Adam Faith in the lead role, havig had a career as a pop singer in the 50s, Terry Nelhams-Wright (stage name Adam Faith) made a decent fist in the comedy role of small time crook Budgie.

The series co-starred Iain Cuthbertson as Charles (Charlie) Endell, a suave and Machiavellian Glaswegian gangster based in London, who employed Budgie, often against his better judgement, or when he was in need of an unsuspecting fall guy

Lynn Dalby as Budgie's girlfriend, Hazel Fletcher, Stella Tanner had a semi regular role as her mother, Mrs Fletcher. Rio Fanning appeared three times as Budgie's gullible criminal Irish pal, Grogan. Guest Stars included Georgina Hale as his wife, Jean, Adrienne Posta as a stripper and George Tovey as his father, Jack Bird.

John Rhys-Davies has an early semi regular role as a corpulent gangster working for Endell, with the colourful name of Laughing Spam Fritter.

Although quite obviously the show was of it's time, it was a huge success and if, like me, one likes a nostalgic look at the grey old streets of London in the seventies, it's worth a look. The episode highlighted below opens at Craven Cottage.
Citizen Smith
From IMdb, Wikepedia (and billp)
Wolfie Smith is an unemployed dreamer from Tooting, London, a self-proclaimed urban guerrilla who aspires to be like his hero Che Guevara.

He leads a small group called the Tooting Popular Front with aspirations to create a communist Britain. However, as a result of being thoroughly disorganised, his chances range from slim to none.

From episode three, "Abide with Me", Wolfie Smith (Robert Lindsay) lives, with his religious, teetotal friend Ken Mills (Mike Grady), in a flat in the house of his girlfriend's family—Shirley Johnson (Cheryl Hall, at the time Lindsay's wife); her affable but naïve mother, Florence, who mistakenly calls Wolfie "Foxy"; and her strict, right-wing father, Charlie, who disapproves of Smith's lifestyle and refers to him as a "flaming yeti" or "Chairman Mao". Shirley considers herself engaged to Wolfie, on account of a fake crocodile tooth necklace he gave her after she was asked when they would get engaged.

Other regular characters in the series are the other 'urban guerrillas': Tucker (married to the ever-pregnant but never-seen June); Speed, the TPF's Warlord, and his girlfriend Desiree; and local gangster publican Harry Fenning (played by Stephen Greif), who refers to Wolfie as "Trotsky". Wolfie and the TPF frequent Harry's pub, 'The Vigilante', and are at times menaced by Harry's hired muscle Floyd and Cyril (played by Dana Michie and Barry Hayes), who are referred to by Florence as "Mr Fenning's foster children".

The nearest Wolfie comes to legitimate political office is contesting the Tooting North constituency as the TPF candidate at a televised by-election; however, he gains only six votes, losing to Conservative candidate David West. He and the gang attempt to kidnap the new MP from a victory celebration, only to mistakenly capture Harry Fenning (who was leaving the Conservative Club during the occasion) instead (Episode 6 - "The Hostage").

Series 2
The opening titles of each episode of series 1 and 2 always began in the same way with Wolfie emerging from Tooting Broadway Underground station, then with a shot of Wolfie kicking a can across a bridge until he is in close up, accompanied by a background rendition of the socialist anthem The Red Flag.

They always ended with him shouting "Power to the People" resulting in awkward consequences, for example, waking a sleeping baby or causing a vehicle to crash.

From Series 3, this was altered: in place of the shots of Wolfie on the bridge, the other cast members were now credited individually; their names were accompanied with an on-screen clip of them, rather than just the list of names that had been used before, and the reactions to Wolfie's shout were dropped entirely.

Series 4 had a new title sequence, which began with Tucker's van driving past Tooting Broadway tube station with 'The Revolution is Back' painted on it. The rest of the credits were backed by clips from the last episode of series three, "The Glorious Day", and Wolfie's shout is heard but not seen. Series two consists of six episodes; however, owing to industrial action at the BBC on 22 December 1978, one episode ("Spanish Fly") had to be rescheduled as a special in August 1979.

Series 3
"The Glorious Day", which Wolfie had always been plotting, comes at the end of the third series, in an episode of the same name, in which the Tooting Popular Front 'liberate' a Scorpion tank and use it to invade the Houses of Parliament, only to find the place empty, owing to a parliamentary recess.

During the TPF's 'annual manoeuvres' on Salisbury Plain, Wolfie, Ken, Tucker and Speed decide to camp down after an evening of heavy drinking; unbeknownst to them, they are in the middle of a military live firing area.

During the night, the British Army hold an exercise, and the Scorpion is 'abandoned' by its crew after being declared "knocked out" by a "landmine" during a training exercise. When Wolfie and his comrades discover this, Wolfie comes up with his revolutionary plan. Speed states that he learned to drive a Scorpion during his time in the Territorial Army, at which point the lads steal it and drive it back to London.

On returning, they hide it in Charlie Johnson's garage. Charlie comes home from work and opens the garage door to park his car. Curious as to the purpose of the Scorpion parked amongst the garden tools, he climbs down inside and accidentally steps on the machine-gun fire button.

The result is that their neat garden is raked with heavy machine-gun fire, narrowly missing his wife Florence who is hanging out the washing, and annihilating their garden gnomes. This episode also includes a new song from John Sullivan and sung by Robert Lindsay—"We are the TPF. We are the People."

Series three consists of seven episodes.

Series 4
The series began with Wolfie and company being paroled, a brief flirtation at being pop stars on the back of their 'fame' ended in disaster. While the TPF have been away, a new gangster, Ronnie Lynch, has usurped Fenning's position in Tooting, including his old pub.

Wolfie hates him more than he did Fenning, and after various run-ins with Lynch (who constantly refers to Wolfie as "Wally"), the series was concluded in the penultimate episode, with Wolfie fleeing Tooting to escape a £6,000 contract put on his head by Ronnie Lynch after Lynch had caught Wolfie in his wife Mandy's bedroom.

Closing with a shot mirroring the opening credits, we see Wolfie entering Tooting Broadway tube station. Series four consisted of seven episodes and a Christmas special, "Buon Natale", in which Wolfie and Ken ride to Rimini on Wolfie's Lambretta to visit Shirley for the festive period, only to find that she herself has returned to London. This episode was shown after the series officially ended, but is set before the events of the last episode.
Ray Brooks
From, Wikepedia (and billp) Sadly neglected as `a Fulham celeb', he is a genuine dyed in the wool White!
Ray Brooks began as a television actor. He appeared in the long-running ITV soap Coronation Street, and played Terry Mills in the series Taxi! with Sid James (1963).

He played small roles in British films such as H.M.S. Defiant, Play It Cool and Some People, and then rose to prominence in the UK after starring alongside Michael Crawford and Rita Tushingham in the 1965 film The Knack …and How to Get It. The film, directed by Richard Lester, won the Palme d'Or at the Cannes Film Festival in 1965. Brooks followed up this success starring in the ground-breaking 1966 television drama Cathy Come Home.

Through the 1960s, he also had small roles in a number of other cult television series: including The Avengers, Danger Man, and Doomwatch. He played the major role of David Campbell in the Doctor Who film Daleks – Invasion Earth: 2150 A.D.

Major film roles in the 1970s were less numerous. These included roles in the all-star Alice's Adventures in Wonderland, and in Carry On Abroad (1972) as oversexed waiter Giorgio. He also appeared in a number of Pete Walker films including The Flesh and Blood Show, Tiffany Jones and House of Whipcord. In this decade Ray released an album of his own songs, and built a successful career doing voiceovers for television advertisements, and children's television series Mr Benn.

The 1980s Brooks returned to prominence with the BBC comedy drama Big Deal (1984–86), where he co-starred with Sharon Duce. After Big Deal ended, Duce and Brooks starred together, as different characters, in the popular Growing Pains (1992) about a pair of middle-aged foster parents.

Brooks was also the narrator of the well known children's animations by David McKee: Mr Benn and King Rollo. From 1980-1983, he played Detective Sergeant Dave Brook in a BBC Radio 4 detective series, rebroadcast as Robert Barr - Detective on BBC Radio 4 Extra from 2013 to 2017.

In 1987, the BBC chose Brooks as one of the principal character voices for the acclaimed French animated science fiction film Les Maitres du Temps, which the BBC had co-produced in 1982.

The 2000s Brooks was the original 'next stop' announcement voice of the London Tramlink system, before being replaced by Nicholas Owen.

In 2002, he acted in BBC drama Two Thousand Acres of Sky. He joined the cast of the long-running BBC soap opera EastEnders as Joe Macer in 2005. On 30 September 2006, it was announced that Brooks' EastEnders character would depart in January 2007 following the departure of Joe's wife, Pauline Fowler (Wendy Richard), at Christmas. His final appearance was on 26 January when his character confessed to killing Pauline, before falling from a window to his death.

He starred as Detective Sergeant Brook in the Radio 4 Extra police series: Robert Barr - Detective; series 1: 13 episodes, series 2: 10 episodes, and series 3: 8 episodes (2013 to present). The series is written by Robert Barr.

Ray was a regular fixture in the Stevenage Row stand, enjoying a fag and pint before home games and each half time, when we returned from our soujourn at Loftus Road, he informed all that "I've joined the Riversiders, as now the old stand's a non smoking zone, I can have a puff over there, the bars are more civillised also I won't have to put up with you lot anymore!"
Actors
Margot Robbie (Actress)
Ray Brooks (Actor - Eastenders, Robbie Box in Big Deal & Narrator of Mr Benn, iconic Brit film 'The Knack'). www.raybrooksbooks.co.uk 
Cathy Shipton
Sharon Duce (Actress - Big Deal)
Dominic Guard (Actor & Sharon Duce's partner)
Christopher Guard (Actor - Dominic's brother & Cathy Shipton's partner)
Cathy Shipton (Actress, Nurse Duffy in Casualty)
Michael Redfern (The OXO Dad)
Hugh Grant (Actor)
Iain Fletcher or "That bloke off The Bill" (Actor - DC Rod Skase in The Bill)
Neil Dudgeon (Actor - Ginger haired detective from BBC's Messiah - pretty sure he used to sit near me in block H3)
Daniel Radcliffe (Actor -Harry Potter, though now seems he's not really interested in football but lives in Fulham)
Keith Allen (Actor, Comedian)
Willie Rushton (Actor & Satirist)
Nigel Havers (Actor)
Liz Frazer (Actress, Carry-On Films)
Sam Kydd (Actor)
Bella Emberg (Actress, Russ Abbott's sidekick)
Pierce Brosnan (Actor, Ex-James Bond)
Kerok Malikyan (Actor - Greek bloke off Mind Your Language)
Fulton MacKay (Actor - Mr MacKay in Porridge)
Tony Booth (Actor & Father of Cherie Blair)
Tony Curtis (Actor)
Ben Chaplin (Actor, Game-On and a film with a long title)
Patrick Mower (Actor, Emmerdale & Hazel)
John Woodvine (Actor)
Honor Blackman (Actress, Steed's femaile sidekick in the first series of the Avengers, Pussy Galore in James Bond)
George Tipper (Actor & Comedian)
Margot Robbie (Actress)


Sports
Jimmy Hill (ex-Player, ex-Chairman, TV Presenter & part time linesman)
Bernard Gallacher (Golfer)
Tim Henman (Tennis Player - dubious!)
Andy Woodman (Journeyman Goalkeeper - suggested he may be a Palace fan)
Dario Gradi (Football Manager)
Alan Pardew (Football Manager)
Alan Smith (Football Manager)
Rasmus Falk (Football Player)

Others
Max Clifford (Publicist) (Ed's note "really?")
The Bloke Karate Kicked by Eric Cantona (Assumed he was a Palace fan but apparently he was a regular at Fulham)
Pope John Paul II (Pope)

Ralph McTell
From, Wikepedia (and billp).
Not sure if Ralph counts himself as a Fuham fan, well, at least he used to come to the Cottage after a few pints in the Dukes Head!
Those were the days my friend, we thought they'd never end, whoops wrong performer!

Back in the seventies Ralph was often seen in the Duke's Head, often with fellow musicians, Bert Jansch and Clive Palmer amongst them, before taking in Fulham home games .

Ralph McTell (born Ralph May, 3 December 1944[1]) is an English singer-songwriter and acoustic guitar player who has been an influential figure on the UK folk music scene since the 1960s.[2]

McTell is best known for his song "Streets of London", which has been covered by over two hundred artists around the world,[3] and for his tale of Irish emigration, "From Clare to Here".

In the 1980s he wrote and played songs for two TV children's programmes, Alphabet Zoo,[4] which also featured Nerys Hughes, followed by Tickle on the Tum,[5] featuring Jacqueline Reddin. Albums were also released from both series. He also recorded Keith Hopwood's and Malcolm Rowe's theme song to Cosgrove Hall's adaptation of The Wind in the Willows,[6] and this was released as a single in 1984 after the series was aired on ITV.

McTell's guitar playing has been modelled on the style of the US's country blues guitar players of the early 20th century, including Blind Blake, Robert Johnson and Blind Willie McTell.[7] These influences led a friend to suggest that he change his professional name to McTell as his career was beginning to take shape.[8]

McTell is also an accomplished performer on piano and harmonica, which he uses on a harness.

McTell's mother, Winifred (née Moss), was born in Hammersmith, London. During the Second World War she was living in Banbury, Oxfordshire, with her sister Olive when she met Frank May. They married in 1943 while Frank was home on leave from the army. Winifred moved to Croydon, Surrey, and McTell was born on 3 December 1944 in Farnborough, Kent. He was named after Ralph Vaughan Williams[9] – Frank had worked as the composer's gardener before the war. A second son, Bruce, was born in 1946. Frank was demobilised, but after a year or so at home, he walked out on his family in 1947.

Winifred was left to support herself and bring up the boys unaided. She told McTell's biographer, "I remember Ralph saying to me quite soon after Frank left us, 'I'll look after you, Mummy'. I guess he'd got used to Frank being away all his short life."[10] But despite their father's desertion and the consequent poverty, Ralph and Bruce May had a happy and fulfilled childhood in Croydon.

McTell's love of music surfaced early. He was given a plastic mouth organ and his grandfather, who played the harmonica, taught and encouraged him. The brothers spent many contented summer holidays at Banbury[11] with their uncle and aunt and their grandparents. Banbury and north Oxfordshire would figure throughout McTell's life. Later, he recalled those childhood summers in his song "Barges".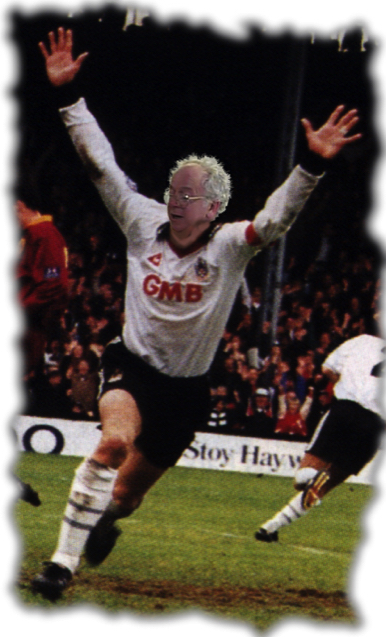 Hugh Grant
You know… Liz Hurley's ex, the floppy haired toff who plays the sort bumbling English twit parts that the Transatlantic audience loves.
From Wikepedia (and billp)
Hugh John Mungo Grant was born locally to Craven Cottage in Charing Cross Hospital on September 9 1960. He grew up along the River Thames in Chiswick.

He was educated at Chiswick's Hogarth Primary School, then in Hammersmith at St Peter's Primary School, then at a Prep School. He moved onto to Upper Latymer, again a Hammersmith Instituation, eventually attending from Galsworthy College Oxford from 1979.

His first leading rollewas in a Merchant-Ivory film called Maurice in 1987. He then appeared in various minor television and film roles that have largely been overlooked for one reason or another. He broke big in Notting Hill in 2001 and About a Boy in 2002 and has milked those characterisations in a plethora of films since.

In any case, however you see his qualities as an actor, he's a Black and White so who cares!
Keith Howell Charles Allen (born 2 September 1953) is a British actor, comedian, musician, singer-songwriter, artist, author, and television presenter. He is the father of singer Lily Allen and actor Alfie Allen, and brother of actor and director Kevin Allen.

After having several jobs during the 1970s, including a job as a stagehand from which he was sacked after joining Max Bygraves' chorus line on stage naked, Allen also worked as a stand-up comedian and vocalist, opening for rock bands such as The Clash.

He's been involved in a countless array of television and film parts, In any case, however you see his qualities as an actor, he's a Black and White so who cares!
He has been involved in several other football-related records, including "England's Irie" by Black Grape and wrote the lyrics for "Vindaloo" by Fat Les. He also contributed the song "On Me Head, Son" to the film Mike Bassett: England Manager, credited on the soundtrack album to Sporting Les.

Allen has produced a number of official songs for the club with his band Colin and the Cottagers singing with the club's chairman, Mohamed Al Fayed. These include "We're Not Real Madrid" and "Back Home", a reference to the club's return in 2004 to its historic home Craven Cottage on the banks of the River Thames.
Keith Allen
A Welsh actor who follows the Whites
From Wikepedia (and billp)
___________________________________
Andy Williams
Legendary American singer (not a White's fan but he sang the original of the song that's currently part of the Fulham repertoire) apologise for Denise but I couldn't locate Andy in a vintage singing clip