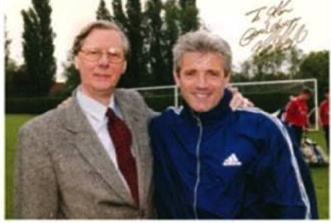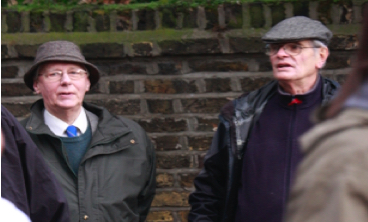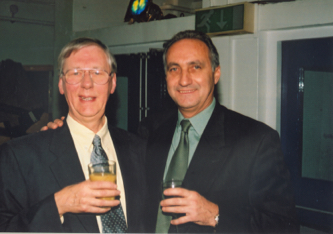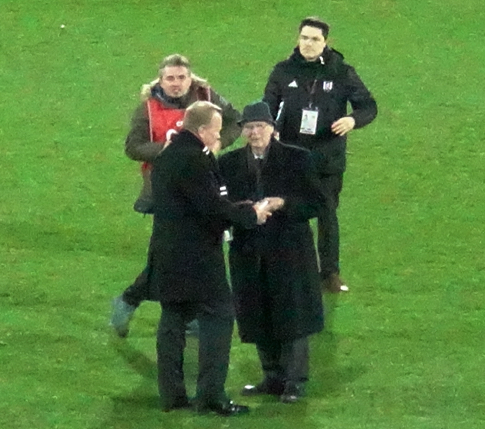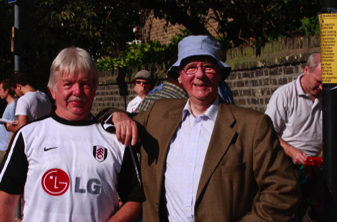 Legendary Fulham Club photographer Ken Coton was on the pitch on Saturday December 7th to receive a 'Forever Fulham' lifetime's award, the first non-player to receive the accolade. This is a celebration of 60 years since his first Craven Cottage photos were taken, and the rest, as they say is ........ pictorial history!
To accompany the award, there was also a book signing session on Saturday at the club shop between 1pm and 2pm, for those who wished to obtain one of the few remaining copies of the 'Fulham – The Team' book (we know most of you have already subscribed!). KEN COTON was there, alongside his co-authors and long-time collaborators Martin Plumb and Official Club Historian Alex White.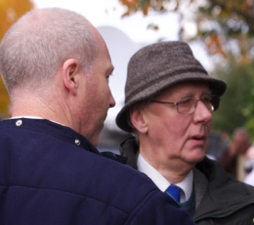 Ken Coton receives a
'Fulham Forever' Lifetime's Award
Ashwater Press have their latest Fulham book available for purchase details here.

What a superb way to launch the eagerly anticipated TOOFIF book covering 30 years of angst, misery, joy, celebration, commiseration, more misery, a little hope, dashed hopes, tragedy, even more angst then rays of sunshine, celebration, joy, revival, promotion, success, consolidation, angst, relegation, disappointment, enlightenment, hope, more joy, more celebration, exhilaration and so on!

Held in what used to be the Putney Rowing Club's Boathouse under the famous Duke's Head Public House overlooking Old Father Thames on the Lower Richmond Road, this was a superb reminder of what it is to be a follower of the oldest football club in London.

Old faces, legends from the playing and management side of yesterday, Fulham Fans from the Media and the rest of us with no claim to anything other than an affliction to the Black and White aspect of SW6 football.

No name dropping but Alan Smith, Simon Morgan, Les Strong from playing and management connections with the Whites were there to support David Lloyd and celebrate his remarkable achievements, not merely for bringing this marvellous publication to the Fulham supporting public but for 30 years of giving us the longest running and most respected fanzine. in British football.

Dave Kidd, Dean Jones, the Fulhamish guys were amongst others there from the media and although a Non-Executive Director of FFC, David Daly came as a fan. football.

The Fulham Supporters' Trust ran the event, including Chairman Tom Greatrex who opened proceedings with an entertaining Q&A with David Lloyd, which frankly could have carried on until the early hours were it not for the other talks that were to follow.

Naturally, the club attempted to overshadow events with the morning announcement of the goodbyes to our beloved manager. This, quite naturally, was a hot topic and those present wasted no time in grilling our speakers. Tom Greatrex of the FST, David Lloyd, Alan Smith, Les Strong, Simon Morgan, Dave Kidd and Dean Jones gave their spin and the result was rather enlightening. It seems that the views expressed were universally held amongst speakers and attendees alike, sorrow, regret, sympathy but a gritted teeth acceptance that it was preventable but inevitable, or was I just imagining that?

As for those following chats involving other Fulham people, Alan Smith was an engaging and humorous chairman, much of what passed is probably covered by Libel Laws so hard luck, if you weren't there you can't hear it here, ring me and if you take the oath, I might just spill a few of the beans!

And then, there were loads of the rest of us, just lovers of Fulham FC.

This is not the place to go into too many details as the proper vehicle will be the next edition of the Magazine, which now all of the effort involved with getting the book finished, will follow as soon as our exhausted Editor recovers from the superhuman commitment of the past months in bringing this three hundred and sixty page masterpiece to us.

Suffice to say a good time was had by all but the main message is, buy this superb tome before the first edition runs out. Also, I'd like to add that if you are not a member of the Fulham Supporters' Trust, please consider joining now. We have not had a Supporters' Club since we returned form Loftus Road.

The FST is our focal point now and their affiliation with Supporters Direct, Football Supporters' Federation & Football Supporters Europe. The Trust's members regular meet at Board level with Fulham Football Club to point our views across and to hear the Club's plans relating to the Team, the players, Craven Cottage, the Training Ground, in fact as much as it is humanly possible about FFC.

This makes them our essential connection to the heartbeat of our beloved Fulham FC.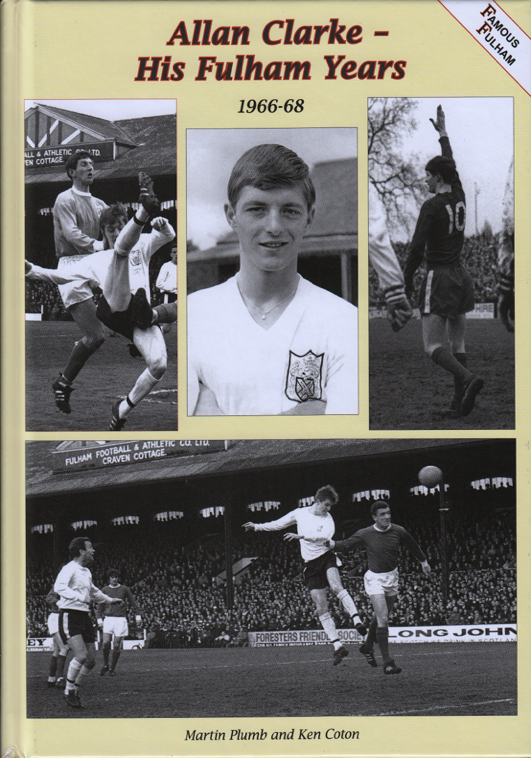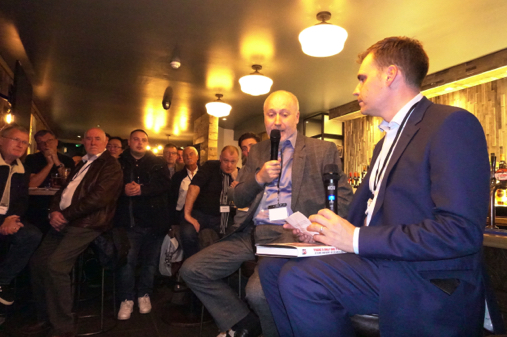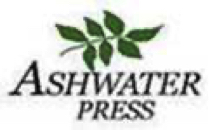 Tom Greatrex kicks off the Q & A with David Lloyd
The Allan Clarke – His Fulham Years books are with Ashwater and as far as we know, we are up to date with posting up to last weekend. Certainly everyone in the UK should now have received their orders, most of Europe should also be OK by now. Please let us know if that is not the case.
We would once again like to say a very big thank you to all of you (regular and new) who have once again already taken our lates offering.
Fifty-seven goals in one hundred matches in his career for Fulham between 1966 to 1968. That was his remarkable achievement.
Here you will find the full story of his two years and descriptions of all his goals, written with author Martin Plumb's legendary clarity. The words are complemented by photographs from Fulham photographer Ken Coton, who captured virtually all the goals.
A postscript provided by the man himself rounds off a well-deserved tribute to a real Fulham legend.
This book has been produced in the style of other FAMOUS FULHAM books, such as the Wembley book. It's a hardback of 168 pages packed with over 130 photographs, many never seen before or glimpsed only once in the Fulham programmes of the time. Allan Clarked has called it wonderful, and we're not going to argue with that!
The price, including UK postage, is £19.95
We offer a special price for two copies posted to UK (JUST £33.90 - save £6) - see below
For Europe, including postage, it's £25.95
For zones 1 and 2, including postage, it's £31.95
and, sorry America, including postage, it's £37.95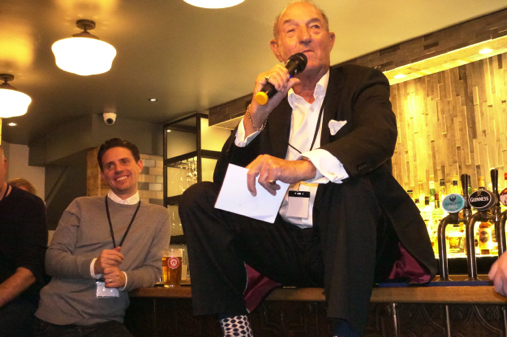 Mr Smith's socks dominate proceedings, "they're Black and White!" he retorted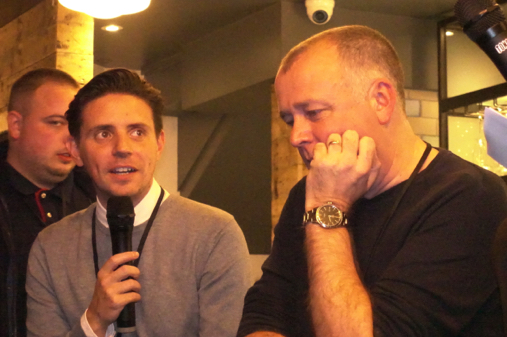 "You sure Dean?", thinks Dave Kidd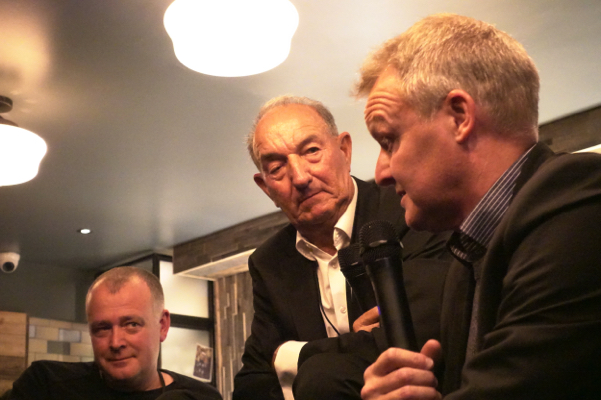 Dave Kidd, Alan Smith and Morgs attempting to not give too much away!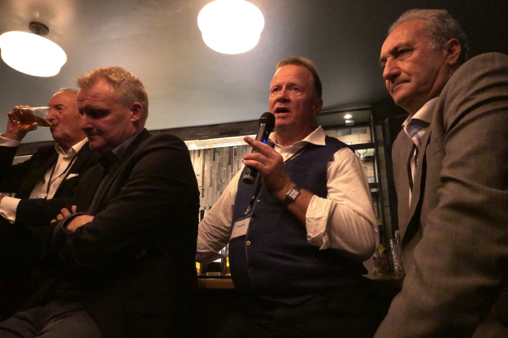 David Daly speaks, Les Strong listens, Alan takes the opportunity to wet his whistle while Morgs has a snooze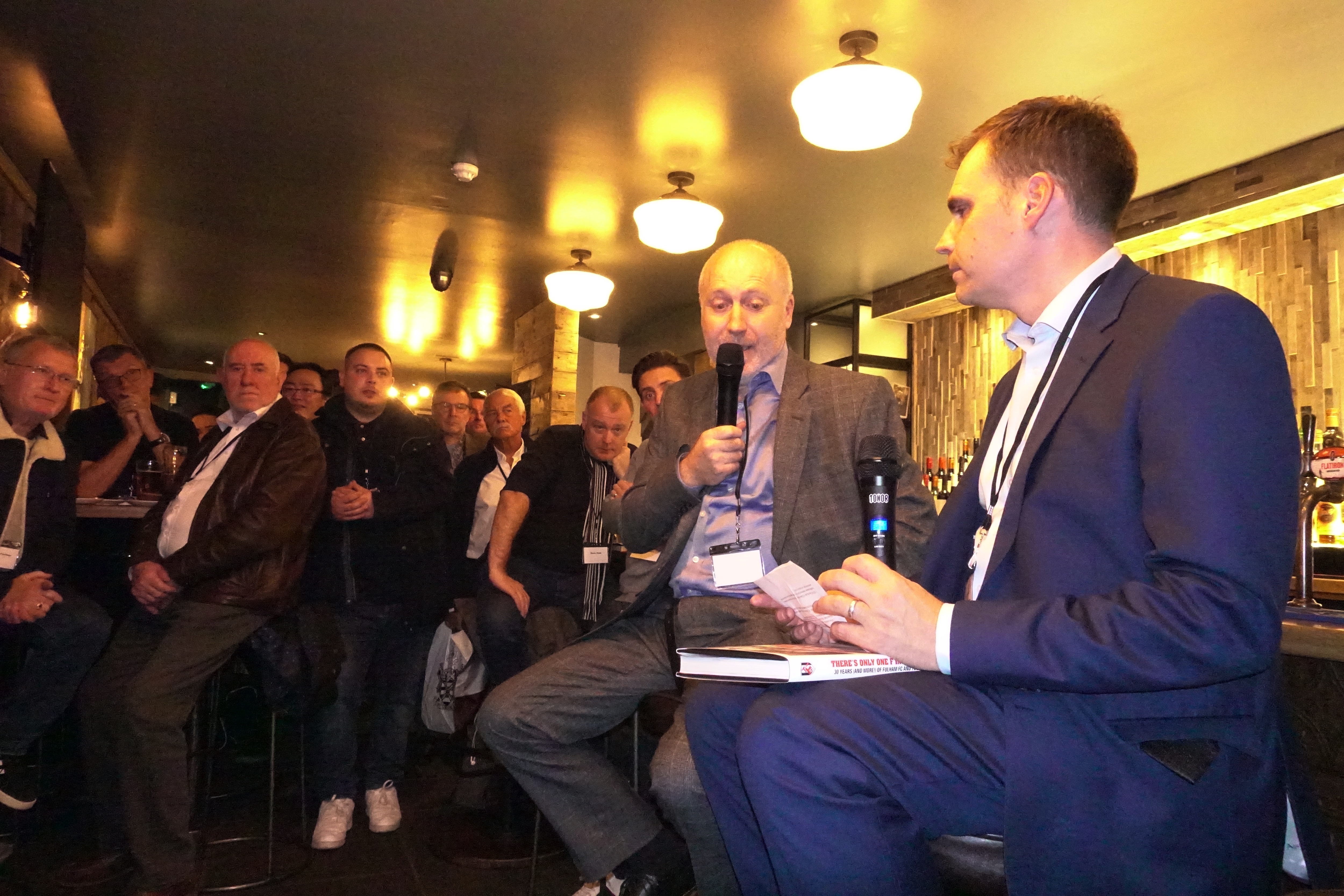 ___________________________________________________________________________________________________
The Official launch of the TOOFIF book
went off with a bang at an incredible evening on Wednesday November 14 2018
billp Friday, 16 November 2018
Ashwater's book 'Alan Clarke – His Fulham Years' details here too
David Lloyd on the Radio
Just before the TOOFIF Book was officially launched at the FST hosted event in November 2018, Editor David Lloyd was interviewed on Radio 5 Live.
Apologies for the delay but we now have a copy here on the Home Page.
Click the Play Button below to have a listen: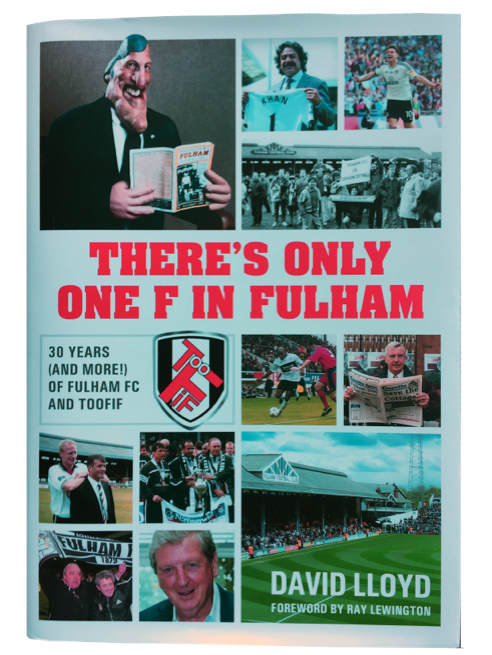 Please make cheques payable to David Lloyd
(not TOOFIF or There's Only One F in Fulham)
post with postage details to:
TOOFIF Subscriptions, 11 Johnson's Close, Carshalton, Surrey SM5 2LU
Email this Link: TOOFIF BOOK ORDER
NEW FEATURE:
Buy the book via PayPal,
click the PayPal logo below
This is an all-in price of £33.95 for UK delivery, £42.95 for Europe
and £53.95
for the rest of the world!


Order your TOOFIF Book now for an all-in price of £33.95 inc postage and packing* to UK addresses*
David Lloyd, the TOOFIF editor has tracked the whole 30-year rollercoaster journey of the Fall and Rise and Fall and Rise of Fulham Football Club since the devasting deterioration of the 1980s, the gradual resurgence, decline and the wonderful last two seasons.

This fan's-eye view covers the most dramatic 30 years in Fulham FC's history, during which London's oldest professional football club plumbed the depths before embarking on a remarkable renaissance.

During the mid'90s, Fulham FC slumped to 91st of 92 in the football pyramid and near-oblivion. Property developers, their bulldozers and even general neglect perennially threatened Fulham's picturesque Thames-side home, Craven Cottage. But the Club's diehard supporters never gave up hope, and their considerable rearguard actions helped to save the day.
Improvements on the pitch attracted a "white knight" backer and, astonishingly, FFC were propelled back to the top flight in 2001, and even to a major European final in 2010.

In March 1988 the fanzine There's Only One F In Fulham (TOOFIF) was launched and its editor has been closely involved with the Club's ups and downs, often directly so, and has chatted to a host of FFC personnel. Several, such as Tom Cairney, George Cohen, Chris Coleman, Mohamed Al Fayed, Jimmy Hill, Brede Hangeland, Johnny Haynes, Roy Hodgson, Ray Lewington and Jean Tigana, are household names in the world of football and beyond.

In short, the TOOFIF editor has tracked the whole 30-year rollercoaster journey...


_____________________________________
The brand new TOOFIF book is here!
Order now !
David Lloyd TOOFIF Friday, 5 October 2018
For UK Delivery £33.95
Europe £42.95
Rest of the World £53.95

Foreword by Ray Lewington
360 pages of TOOFIF Extravaganza!