We are pleased to announce that TOOFIF is available to purchase
Subscribe to TOOFIF
£20.00 For five issues to UK addresses.
That's still a bargain given the cost of posting and packing!
£30.00 For five issues to European addresses.
£36.00 For five issues to addresses elsewhere in the world.
Please make cheques payable to David Lloyd
(not TOOFIF or There's Only One F in Fulham)
post with postage details to
TOOFIF Subscriptions, 11 Johnson's Close, Carshalton, Surrey SM5 2LU


Or buy from the places on the next page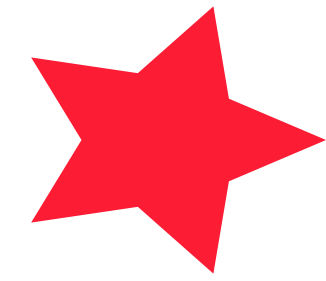 Still only
£3.00
per issue

NEW FEATURE:
Subscribe via PayPal,
click the PayPal logo below
Please note, PayPal imposes a surcharge
to sellers which means £2.00 is added
to the total if using this method, apologies
for that but that's why Elon Musk is a
billionaire!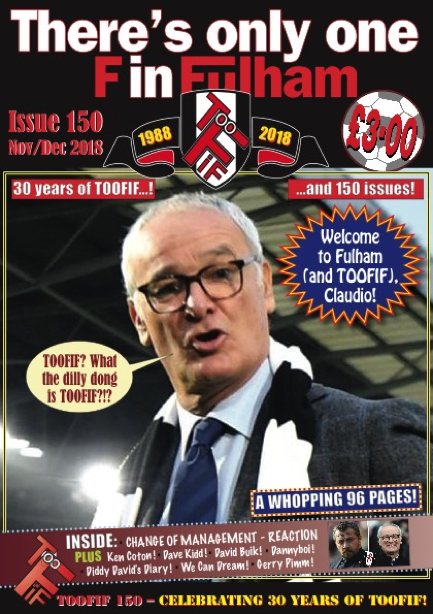 There's only one F in Fulham the book
is still on sale £33.95 for UK delivery, details on it's dedicated page,
Ashwater Press also have a new Fulham book out:
Fulham – The Team
It's on sale £32.95 for UK delivery, a link to their site with details is on the Books page.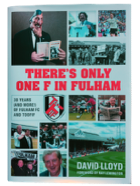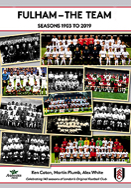 An announcement by David Lloyd about the Fanzine
TOOFIF UPDATE: Issue 152 of the fanzine, which should have appeared at the start of the season, remains in the sidings.
Sorry! Ongoing health matters and related stuff have got in the way. Best-case scenario is a new (bumper?) edition early in the new year. However, as things stand, there's every chance that it'll be the last-ever TOOFIF; we'll see.