There's only one F in Fulham
The Fulham Fanzine 2019-20 Championship Season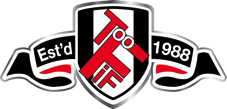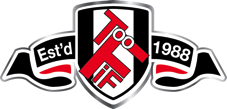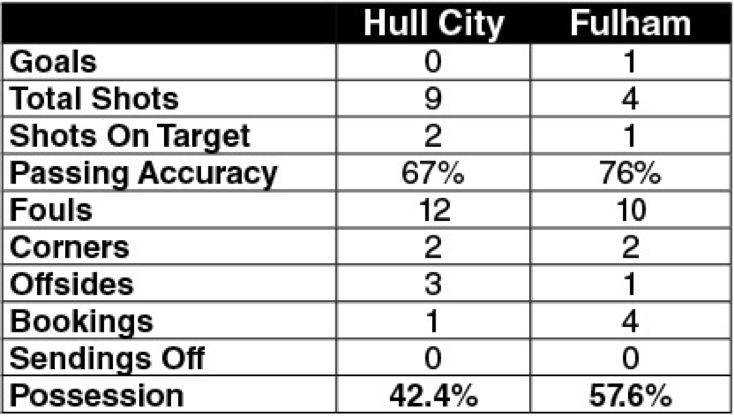 November 2019 was our last meeting
In the last eight games We've lost four, drawn two and won two
billp TOOFIF Updated Monday, 30 December 2019
Hull City AFC 0 v FFC 1 JAN 11 2020
Whites' Heaven in Hull
Dreadful game, average performance, three points away, ta very much!
billp TOOFIF Sunday, 12 January 2020
Images none today!
The Home fixture against Hull this season was a shocker, they were struggling at the time and we had pretensions of climbing into the promotion race, by the end of that game many of our illusions (some might say delusions) were destroyed.

We need to be winninng consistently home and away so we can only hope that this match gives us revenge.

Our first ever game against Hull City was staged at the Cottage on the third of September 1907 and was a Division 2 fixture, unfortunately for the Super Whites, Hull ran out victorious by one goal to nil that time. Is that not a familiar feeling?

The last meeting between our clubs, prior to this season's home debacle, took place at their home ground on the 30th of December 2017 in the Championship, on this occasion the match ended in a two all draw.

Our record since that first contest consists of 94 meetings. Out of these these games, Fulham have won 31, we've drawn 28 and lost 35 so the balance is slightly tilted in Hull's favour over the
Match Information
from FFC online
Competition: Sky Bet Championship
Date: Saturday 11 January 2020
Kick-off: 3:00pm
Venue: The Kingston Communications Stadium, Hull
Attendance: 11,347
Referee: Matt Donohue
Fulham
Line-up: Rodák; Christie, Hector, Ream, Odoi; Onomah, McDonald, De Cordova-Reid; Knockaert (Mawson 90'), Mitrovic (Bryan 80'), Cavaleiro (Arter 86')
Unused substitutes:Norman, Johansen, Cairney, Stansfield
Manager: Scott Parker
Hull City
Line-up:Long; Pennington, Burke (Lewis-Potter 70'), de Wijs, Lichaj; Da Silva Lopes, Kane (Honeyman 61'); Bowen, Irvine (Bowler 84'), Grosicki; Tom Eaves
Unused substitutes: Ingram, Tafazolli, Fleming, Batty
Manager: Nigel Adkins
Preview from the pre-match Home Page


A small history
Hull City was founded in 1904, playing friendly games at The Boulevard (the home of the Hull Rugby League Club), Anlaby Road Cricket Ground and Dairycoates. A year later they were elected to the Second Division of the Football League.
Whilst still playing occasional games at the rugby and cricket grounds, City also moved to a new home on Anlaby Road where it remained until 1941 when wartime games saw a brief return to The Boulevard. City finished their first league season in fifth place and remained in the top half of the table for much of the period up to the First World War."
(from the official Hull AFC website)
In a nutshell.

This was a dour old game and Hull were close to scoring on a few occasions, on they other hand, they didn't but we did. Knockaert and Cavaleiro combining for Ivan to score the only goal of the game.

The best thing about this match was to see Kevin MacDonald back to his old self, when he's fit and on form, he makes us a stronger proposition and in gritty away games our big Scotsman comes into his own.

The bad news was that Mitro was again toothless but worse still was the sight of him going off injured, we'll be hoping that isn't too serious a blow. It will probably do him a bit of good to rest up for a couple of games as he's worked tirelessly in every one of the matches he's played this season.

That was that, back to London with three points!

Honestly, there are no further words that can be mustered to make this game sound any more interesting so rather than pad it out like a Sky Sports pundit, I'll close it here
The only thing we'll be hoping for at the KCOM Stadium on Saturday is that our lot don't play like they did against Hull at the Cottage back in November.

In that game we really looked like a relegated team and were so bad that Hull appeared to be promotion hopefuls, not to insinuate that they won't be battling for promotion in May but we were dreadful and they were pretty good by comparison.

In fact, there were only seven places and four points between the teams after the previous 14 games.

Naturally, we had been yo-yoing up and down the league until this match, very much the case now. One minute up in the heights, the next being pulled down to the following pack so that's something that we need to rectify and soon, that Fulham inconsistency.

Now after 26 games, we lie in fifth place on 42 points with Hull close behind in ninth place with 39 points. We need to see the table showing us on 45 and Hull stuck with 39 once this game ends.
Review from the post-match Home Page

According to the much beloved Match Stats, Fulham bossed possession away from home yet again, we had the ball 57.6% of the match to Hull's 47.4%, our passing accuracy was also higher but we only had one shot on target compared to their two.

The one or two people who visit this site will have no doubt realised that I view this obsession with such figures with absolute disdain but that shots on target one is pleasing considering that it resulted in our goal.

To be honest, I'd rather that Fulham had a mere third of possession and four shots on target, providing that the opposition score no goals in reply.

I'm not complaining either way, three points away again, now that's one statistic I'll always celebrate.

COYW!
It's the result that counts, three points and all!
Hull 0 v Fulham FC 1 | Saturday January 11 2020