There's only one F in Fulham
The Fulham Fanzine 2019-20 Championship Season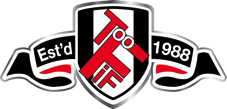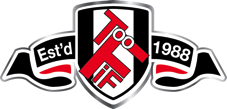 We could get used to this but it's another away win
However, I am definitely not getting carried away
billp TOOFIF Updated Sunday, 25 August 2019
Huddersfield 1 v FFC 2 AUG 16 2019
In contrast, it's a big thumbs down for the ridiculous theatrics from Mitro,
He was writhing around as if in agony when it appeared that he hadn't been touched, the outcry from the match commentators was damning
Initially I concurred totally with that view, it was a dreadful over reaction from our mercurial striker.
However if one plays the sequence in super slow motion you can see that his head was brushed by the defender's knee and then the corner flag falls on his face and pops back up. It was then he went into amateur dramatics mode, whatever he felt strike him was something of nothing and he ought to have kept his counsel.
As it is It will not be surprising if he ends up with some retrospective punitive action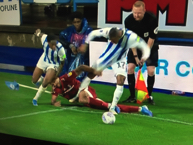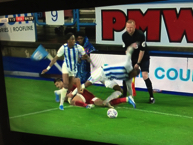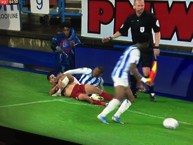 A sure fire BAFTA winner!
It keeps getting better!
But it's early days yet
billp TOOFIF Sunday, 18 August 2019
Match Information
from FFC online
Competition: Sky Bet Championship
Date: Friday 16 August 2019
Kick-off: 7:45pm
Venue: John Smith's Stadium, Huddersfield
Attendance: 20,775
Referee: James Linington
Huddersfield Town
Line-up: Grabara; Hadergjonaj, Elphick, Schindler, Kongolo; Bacuna (Chalobah 54'), Hogg, O'Brien; Kachunga (Mounie 83'), Grant, Pritchard (van La Parra 84')
Unused substitutes: Schofield, Bockhorn, Diakhaby, Quaner
Manager: Jan Siewert
Fulham
Line-up: Bettinelli; Steven Sessegnon, Mawson, Ream, Bryan; Cairney, Arter, Johansen (De Cordova-Reid 76'); Knockaert (Le Marchand 90'), Mitrovic, Cavaleiro (Reed 84')
Unused substitutes: Rodák, Christie, McDonald, Kamara
Manager: Scott Parker
Scotty made just one change to the line-up, replacing the imjured Denis Odoi with Sessegnon. No, hang on, I did say Sessegnon, oh yes it certainly was our young protegee from the youth team, however Steven, not the Spurs player Ryan. By the end of the game he can be very proud of the contribution he made.

The conditions were not great, with Yorkshire having been rained on all day much like everywhere else in the UK and we all know how a soaking wet pitch can affect the outcome so my fingers were well and truly crossed when referee Linington blew to get things moving.

The opening minutes did make me blink a bit, not becuse rain was in my eyes but because it seemed that Fulham were the home team because the Terriers hung back and allowed the Whites to push them towards their own goal.

At around nine or 10 minutes, Ivan Cavaleiro probably should have scored following a raid by Knockaert down the right wing. Knock's dangerous cross was punched directly to Stefan by the Terrier's keeper Grabara, his pass to our Wolves loanee sadly resulted in a shot that went wide when it looked to be a certain goal.

The half was passing in a matter of fact fashion following the same pattern that had been established right from the start, the super Whites a beacon in a murky football scape, Huddersfield defending en-masse and hoping to catch us on the break, as the clock wond down towards the 45th minute.

A good left wing move involving the ever-more impressive Joe Bryan combining with our old favourite Johansen culminated in a vicious shot from Bryan that was pushed away by the Terrier's keeper who'd been far busier for the first half as the whistle drew things to a close. But, despite the dominance, we hadn't scored which frankly often comes back to bite us after starting a game so promisingly.

Thankfully, the Huddersfield manager didn't light a rocket under his players during the interval as Scotty had done against Blackburn last Saturday as the second half continued in exactly the ssame vein as the first.

Fulham were constantly looking more and more dangerous with great moves leading to excellent chances from Mitro and Knockaert and, thankfully, Cavaleiro had found some form and was looking more dangerous, he demonstrated this by getting increasingly involved.

When our goal arrived, it was somehat soft, a high and hopeful lob towards goal was skyed over and across the box by Bacuna, easy meat for the lurking Mitro who leapt and joyfully (also probably disbelievably) beat Elphick to the header and converted past the hapless goalie.

"It's just too good to be true……" sang the jubillant away support, how right they were!

Just as it appeared that Huddersfield had thrown in the towel, they broke forward and somehow Keith Grant was able to connect with a header, the ball careering off Bettinelli and over the line, here we go again!

Come the 76th minute and Parker subbed Stefan Johansen, bringing on new boy Bobby Decordova Reid, instantly the team moved up a gear, no settling for one point from Parker.

It tok just four minutes for this to pay off, Knockaert had the freedom of the pitch while marauding down the right and a delightful pass was met by an incoming Steven sessegnon, his delightful ball into the danger area was controlled by Mitro who unselfishly fed a great ball to Cavaleiro who brilliantly curled a precision strike into the far corner, something of a wonder goal

And that was about it, a well deserved and very welcome three points on the road and so many creditable performances that it would be churlish to pick anybody out. Having said that, full marks to Steven Sessegnon who had been somewhat overlooked due to the meteoric rise of his twin brother. He was superb throughout, it's just a matter of time before the greedy thieves from North London come sniffing around no doubt!

Iven Cavaleiro should be mentioned as he had a mare of a first half and some possibly felt that he'd been fortunate to come out for the second half. To his credit his head never dropped and he imposed himself on the game and by the end was up there with the rest of the heroes.

Here's looking forward to Tuesday!

COYW!
Young Steven deserves a plaudit for an excellent performance, hence he dominates the images.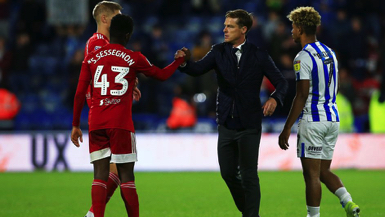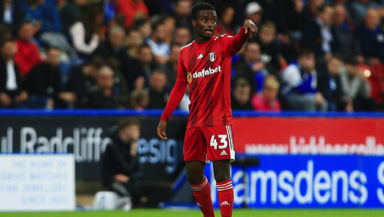 A sign of the times
from The Examiner
https://www.examinerlive.co.uk/sport/football/news/how-national-media-reported-jan-16771115
Huddersfield Town are searching for their next manager after sacking Jan Siewert last night.
The Terriers dismissed their German boss straight after their 2-1 defeat to Fulham last night.
Goals from Aleksander Mitrovic and Ivan Cavaleiro ensured all three points for the Cottagers, leaving Town without a win in 14 matches.
That proved to be the straw that broke the camel's back and he was dismissed less than an hour after the final whistle.
It's been a poor start to the season for Huddersfield, who have taken just one point from three Championship fixtures and were knocked out of the Carabao Cup by League One outfit Lincoln City in midweek.
The Terriers are back in action on Wednesday night away at Cardiff City with Mark Hudson set to take charge until a new manager is appointed.
How the national media reported Jan Siewert's Huddersfield Town departure and who could be next:
An away win, who'd have thought it and after we'd played just two previous games in our season back in the second tier.

All in all, Fulham deserved all three points and although I am no disciple of match statistics, this was another game where the Super Whites completely dominated with 65% possession which as the away side looks pretty good.

Having said that, it was another case of holding the ball in areas rather deep and often between the back four in own half. Still, if you've got the ball, the opposition can't score against you so I'm not moaning.